Initially, this article was going to be a simple study of the Levi's 'Batwing' logo. But to appreciate the heritage behind the world's most famous clothing brand, the history is important.
Part one begins nearly 300 years ago.

J. Strauss Brother & Co

Loeb Strauss was born into an Ashkenazi Jewish family on 26th February 1829 in Buttenheim in the Franconian region of the Bavarian province of the German Confederation.
He was born to Hirsch Strauss and his second wife, Rebecca Strauss, nee Haas. Loeb had three older brothers and three older sisters.

In 1846, his father succumbed to tuberculosis (he and his first wife, Madel, are buried in the Buttenheim Jewish Cemetery).

Loeb's mother, Rebecca, married her brother-in-law, Lippmann Strauss. The whole family moved into his house, but he died just three months later.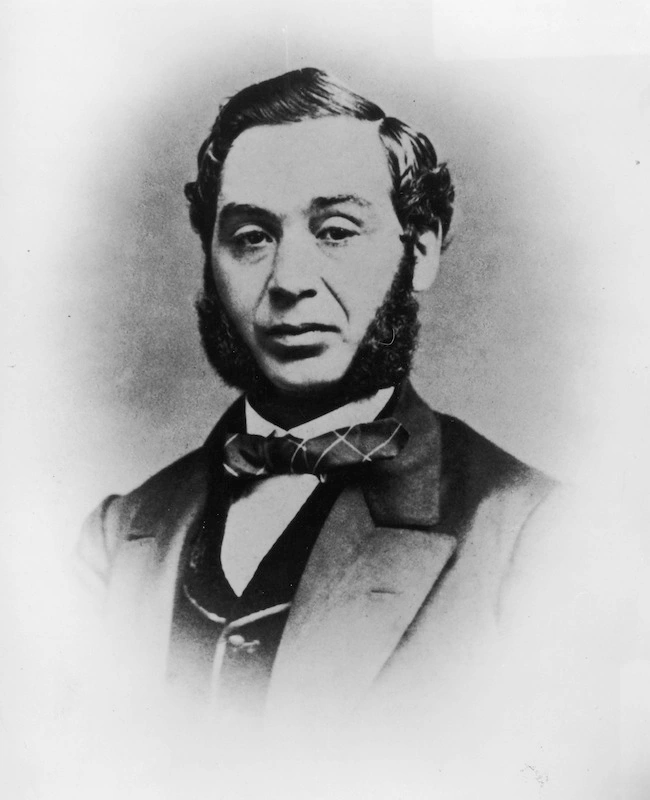 Loeb worked as a merchant in Bavaria until 1848 when, due to harsh Anti-Semitic laws and violence, his mother purchased he and his sisters four tickets on a German boat bound for the New York East River pier.

Loeb's two older half-brothers, Jonas and Louis - who had emigrated circa 1836 – had established a wholesale dry goods business called 'J. Strauss Brother & Co.' at 108 Liberty Street in Lower Manhattan.
Loeb walked New York's streets as a peddler selling goods door to door and into the surrounding towns.

Strauss Brothers products included shoes, hats, vests, coats, pants, buttons, fabrics, trims, sewing goods, blankets and kettles.

In 1850 Loeb Strauss changed his name to Levi.

San Francisco
Three years later, Levi became as US citizen when his brother Louis signed his paperwork. At the time, the Strauss family resided at what was then called 165 Houston Street and was listed in the New York Directory as both the residence of Jonas Strauss and J. Strauss & Brother Dry Goods.

Levi continued to learn family the trade and polish his English by selling his brothers' supplies in Louisville, Kentucky.
In the 1940's, David Stern immigrated from Bavaria to New York before settling in San Francisco where he was joined by his brother-in-law Levi in February 1853.
It was the high peak of the frenzied California Gold Rush that started in 1848. The next year, hopeful prospectors, known as 'forty-niners', poured into the area.

This massive polyglot migration transformed the state's landscape and population. Levi had been sent there to scout out a larger location for the family merchandising company – a show of confidence in his business ability by his brothers.
Early San Francisco was known as the 'instant city' because it was a city of tents and shacks that grew prodigiously, burned down and grew up again.
A lack of military and police presence created a wave of crime in the 1840s, but by the time Levi arrived, the city was the backbone of the gold mining region.
In 1858, he was listed in the San Francisco Directory as a co-owner of the company under the name 'Strauss, Levi (David Stern & Levi Strauss) importers clothing etc. 63 & 65 Sacramento St'.

Stern served as its manager and Strauss as its sales manager.

Levi Strauss & Co.
In 1860, working as the West Coast representative of his family's firm, the company was renamed as 'Levi Strauss & Co.'

It sold shovels, picks, lanterns, pots, pans, shoes, long johns, shirts, blankets, bedding, combs, purses, handkerchiefs, rolls of fabric and imported items (delivered from his brothers in New York) and dungarees to sell in the small stores opening all over California and other Western states to supply the rapidly expanding communities of gold miners and other settlers.

The dungarees were usually made out of blue canvas. The hard-wearing overalls were from a sturdy fabric called serge, made in Nimes, France.

Originally called serge de Nimes, the fabric later became known as 'denim'.

By 1866, Strauss had moved his company to expanded headquarters at 14 - 16 Battery Street in San Francisco where it would remain for 40 years.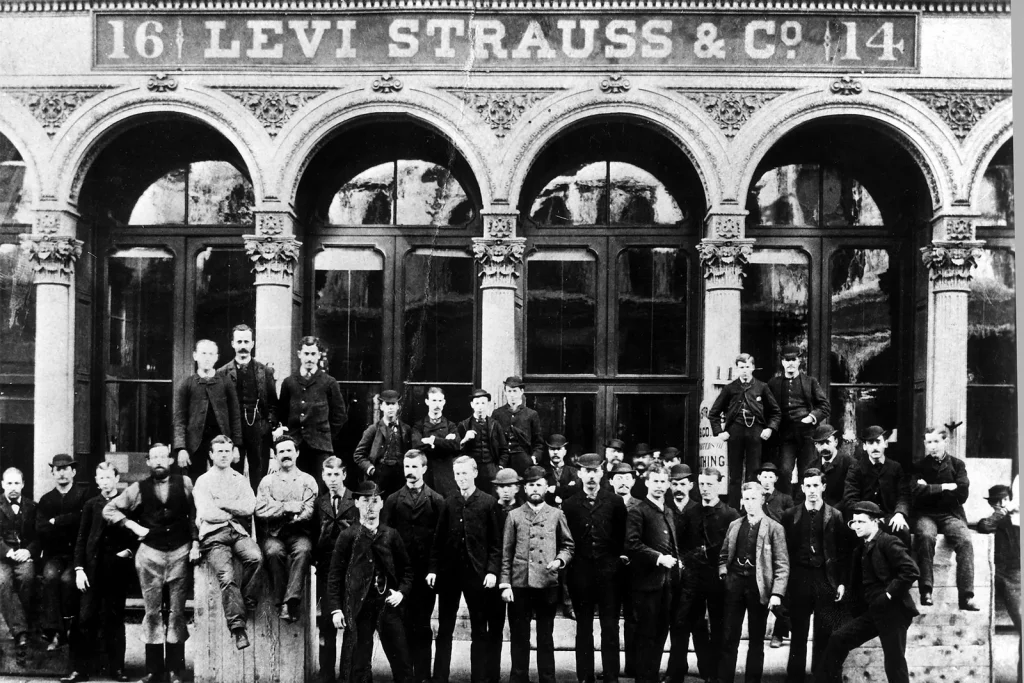 As business increased, Levi became a well-respected businessman. He involved himself in politics, community events, real estate, business opportunities and, in particular, philanthropic work.
His good reputation grew along with the dry goods business.
Rivited waist overalls
Jacob Youphes was born in 1831 in Riga, Latvia (then part of the Russian Empire). A trained taylor, he immigrated to America in 1854 and changed his name to Jacob W. Davis (commonly known as JW).

In June of 1868 he settled in the small railroad town of Reno, Nevada. He invested his money in a brewery, but lost it all.
By 1869 he had opened a tailoring shop on Virginia Street.
He dabbled in panning gold and ran a cigar shop for a short time. He also made tents for prospectors, horse blankets for teamsters and wagon covers for stagecoach companies.

Davis frequently purchased bolts of denim cloth and duck canvas (a heavy cotton) from Levi Strauss & Co.'s wholesale house to make hard-wearing clothes for miners. But the miners were constantly coming back for repairs: the fabric held up, but the stitching at stress points did not.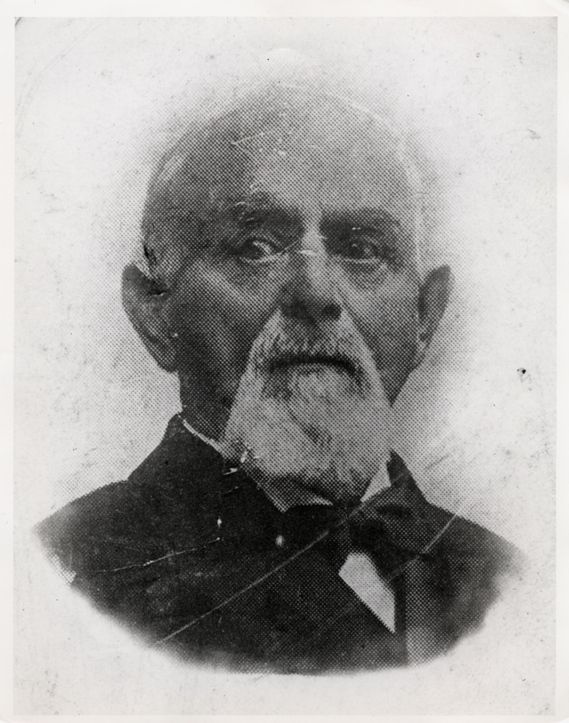 In late 1870, the wife of a local woodcutter wanted a pair of work pants that her husband couldn't destroy. She visited Davis' shop in Reno looking for help.

She paid him $3 in advance for white duck pants and told Davis that she wanted them made as strong as possible.
He made a pair of 'waist overalls' (as they were called back then) out of tent material with pockets that could hold tools. To reinforce the stitching, he chose rivets which were normally used for horse blanket straps.

It was a 'eureka' moment.

US Patent No. 139,121
By 1871, Davis was routinely using rivets on the overalls he made - first on duck pants, but denim soon thereafter.

Within eighteen months he had made and sold two hundred pairs of the riveted pants and was beginning to be imitated by other tailors.
In July 1872, Davis sent Levi Strauss a package that contained two pairs of overalls - one pair made of 10oz duck cloth (purchased from Levi Strauss & Co.), the other made of blue denim cloth.
Rivets were placed in the pockets and seams to strengthen the pants. They were in high demand and selling faster than Davis could produce them, he knew he'd hit upon a money-maker.
Davis wanted to patent the idea of riveting the waist overalls because he was afraid that someone would steal the idea.
---
The word 'jean' started in the 1800s in reference to a twill cotton cloth used for trousers. But the textile soon became conflated with the garment it was commonly used for.
Others speculate that when tent canvas was replaced with a heavy blue denim material called 'genes' in France, the word became 'jeans' in America.
---
Most of the risky prospectors of California gold mining became bankrupts. Levi was one of the wise moneymakers who provided goods and services to the miners, ranchers, farmers, cowboys and lumberjacks of California.

By the 1870s, Levi Strauss was famous and wealthy. He was already manufacturing durable work garments for miners, but they were made out of tent canvas.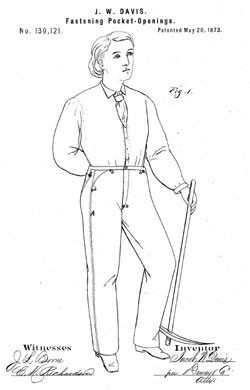 Because he didn't have $68 for a patent application, Jacob Davis wrote to Levi to propose a business partnership and to share the costs.

Five days after the package arrived, Levi asked his lawyers to produce a merchandising agreement.

With a partnership established, Jacob Davis and his family moved to San Francisco so that he could begin work as a production manager at the Levi Strauss & Co. shop.
Filed on 9th August 1872, the full US Patent No. 139,121 was granted the following year in the name of Jacob W. Davis and Levi Strauss & Co. for 'Improvement in Fastening Pocket-Openings' on 20th May 1873. The patent described the invention as "a pair of pantaloons having the pocket openings secured by means of rivets."
Arcuate stitching
Ever the savvy businessman, Levi had access to the very best 90z denim available from Amoskeag Mills in Manchester, New Hampshire.

Waist overalls made of denim from the Amoskeag Mills was given the designation XX (extra, extra strong) as a mark of the highest quality. This was significant as it signalled to labourers and workmen that their waist overalls would protect them, last longer and therefore save money.

Initially, production was done by individual seamstresses from their homes.
Eventually, space was leased south of Market Street for a Levi Strauss & Co. factory creating work for fifty female sewing machine operators. They were required to bring their own Singer #2 or Grover and Baker #1 machine for steady employment.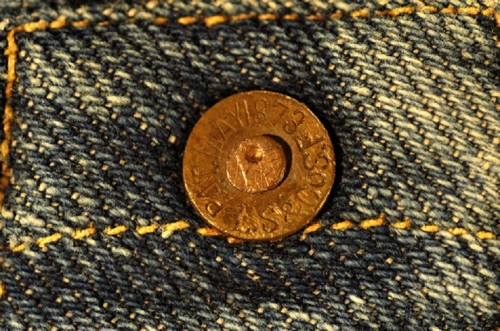 The first overalls had 11 rivets and were stamped with 'Pat May 1873 LS & Co SF' - the patent date, company initials and SF for San Francisco.

The overalls had one back pocket with the Arcuate stitching design (the same design they have today), a watch pocket, a cinch, suspender buttons and a rivet in the crotch. The rivets on the back pockets were exposed.
Evidence shows that the earliest waist overalls included a knife pocket on the rear outer of the left leg.

As these waist overalls were created before the invention of the double stitch sewing machine, the distinctive arcuate stitching on the pocket would have been stitched twice using a hand-mechanised, single stitch machine, giving it a unique character.
In the 1874 City Directory of San Francisco, Jacob Davis' occupation was listed as 'manufacturer'.

Philanthropy

The successful clothing business wasn't the only sphere of public life for Levi. He became a charter member and treasurer of the San Francisco Board of Trade in 1877.
He was a director of the Nevada Bank, the Liverpool, London and Globe Insurance Company and the San Francisco Gas and Electric Company.

In 1875, Levi and two associates purchased the Mission and Pacific Woolen Mills.
He was a Jewish community leader and a contributor to the Pacific Hebrew Orphan Asylum and Home, the Hebrew Board of Relief, San Francisco's Temple Emanu-el Sisterhood, the University of California and other civic and cultural institutions.
He was also one of the city's greatest philanthropists. Levi was a contributor to the Pacific Hebrew Orphan Asylum and Home, the Eureka Benevolent Society and the Hebrew Board of Relief.

In 1897 Levi provided the funds for twenty-eight scholarships at the University of California, Berkeley, all of which are still in place today.
He also gave money to the California School for the Deaf and helped to fund the annual gold medal awarded to the temple's best Sabbath School student.
Government contracts, prison uniforms for the state of California, the population explosion, cowboys, agriculture workers, miners and common laborers all added monetary value to the Strauss clothing business.
Even as his company and fame grew in size, Strauss insisted that his employees and relatives call him Levi, not Mr. Strauss.
The Two-Horse brand
David Stern died in 1875 in San Francisco. The company incorporated in 1890 with Levi Strauss as president, Jacob Stern as First Vice President, Sigmund Stern as Second Vice President, Louis Stern as Treasurer and Abraham Stern as Secretary.
In 1886, the iconic Levi's patch was created, depicting two horses failing to rip a pair of jeans in half. This simple, yet innovative, imagery was chosen to entice cowboys, farmers and workers who didn't speak English as a first language. Also, not everyone in the remote West was literate.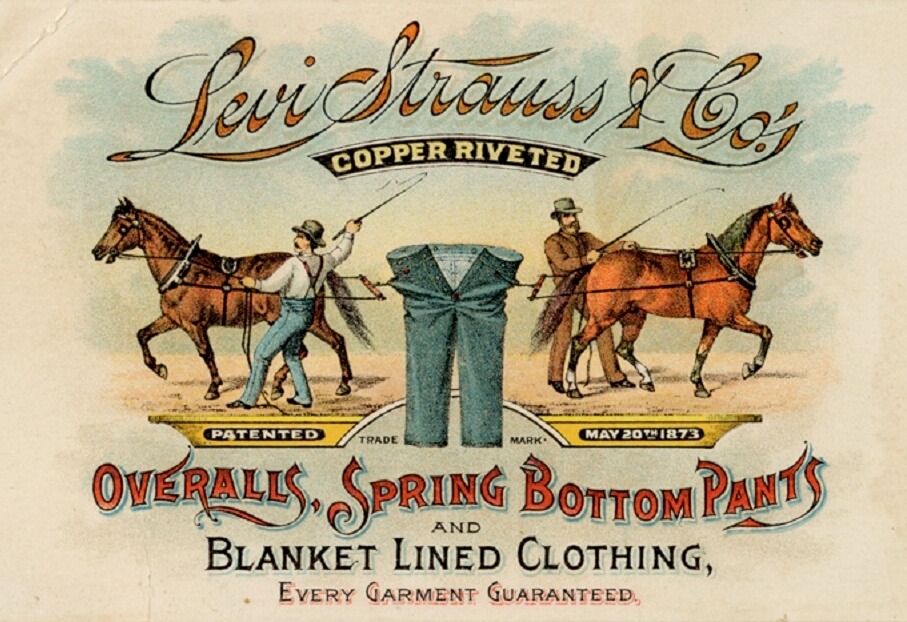 So successful was the patch that, for many years, Levi Strauss & Co. was simply known as the 'two-horse brand' until 1928 when the official brand name became 'Levi Strauss'.
The patch was also notable for having two white men in the image. Levi wanted to convey that no slaves were used in the manufacture if his clothing.
501
In 1890, the rivet patent expired and Levi was forced to think about how his products could stand out.
Lot numbers were assigned to the products that were being manufactured and '501' was used to designate the famous XX copper-riveted waist overalls. It's unknown why the number '5' was first given to the core range of Levi products, but items that started with a '5' were top-of-the-line.
The rationale for this rebranding is unknown, as is the reasoning behind the arcuate on the back pocket.
At the end of the 19th century, Levi was still involved in the day-to-day workings of the company. Levi and his nephews officially incorporated the company.
In 1901, another back pocket was added to the waist overalls (the red tab wouldn't come until 1936).

1906 earthquake and fire
In September of 1902, Levi started complaining of heart trouble. It seemed to pass and he spent time with family over the next couple days.
Levi died peacefully in his sleep on 26th September 1902 at his Leavenworth Street home. He was 73.

The City of San Francisco declared a business holiday so that everybody could attend the funeral at Temple Emanu-el and he was buried in Home of Peace Cemetery.
Levi's estate amounted to nearly $6 million, the bulk of which was left to his four Haas family nephews - Jacob, Louis, Abraham and Sigmund Stern. Donations were made to local funds and associations.
The company itself was left to the shareholders and his four nephews.
Many 17th century buildings in Buttenheim crumbled or were demolished, but one structure survived: the house where Levi was born. It's now a museum and today the facility greets 15,000 visitors a year.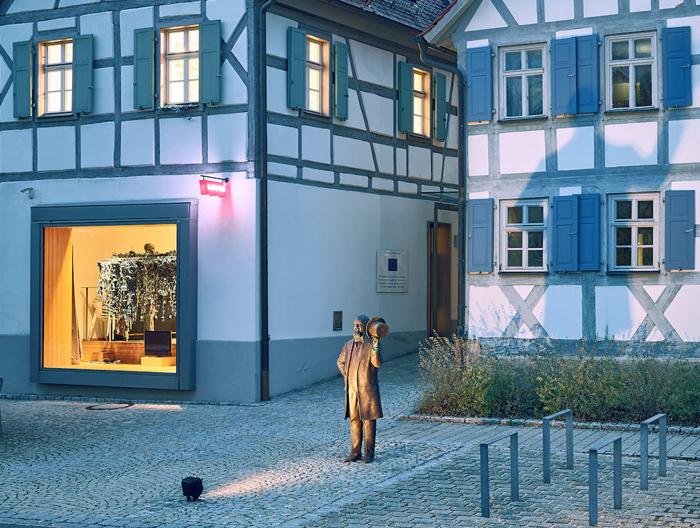 The 1906 earthquake and fire destroyed the headquarters and two factories of Levi Strauss & Co. The company extended credit to its wholesale customers so they could get back on their feet and back in business.
Employee salaries continued and temporary headquarters and a showroom were opened in order to keep employees working.
A new factory was built at 250 Valencia Street and new headquarters were erected on Battery Street.
In 1907, Jacob Davis sold his interest in the patent and the manufacturing to Levi Strauss & Co. but continued to supervise the factory until he passed in 1908 at the age of 77. He rests at the Hills of Eternity Memorial Park in Colma, California.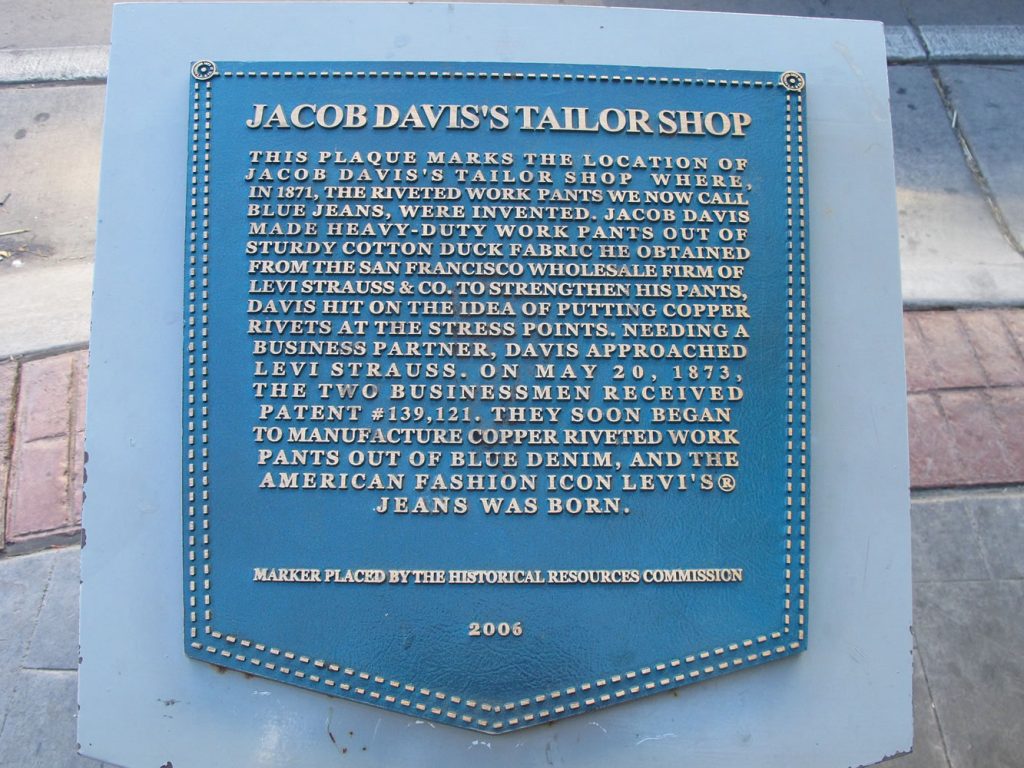 At the historic location of his tailor shop at 211 N. Virginia Street in Reno, the Reno Historic Resources Commission erected a plaque on 20th May 2006 to commemorate the fact that jeans were invented there.
His son, Simon, was eventually managing Levi Strauss & Co., rebuilding the company after the 1906 earthquake.
The story of the Levi's logo (part 2) will be available soon.

Does your company need a logo? Click HERE to check out the graphic design and logo services on offer from PageNorth Digital.