Websites that build your business.
We are PageNorth Digital
PageNorth is a premium digital creative and marketing agency with office locations in Scotland, England and Spain serving digital services to our clients across Europe and beyond. At PageNorth we are focussed on delivering results, working with local, national and international businesses of all sizes. From a local new start business to an established corporate, we provide the same level of dynamic service to all. Our teams are diverse in location and nationality which brings a breadth of experience and inspiration to our culture and our clients. Our business is focussed on providing managed service systems to enhance and promote your business.
Managed Websites
Our Managed Website's plan's provide excellent value for money and ROI. With our subscription model, you have a service that provides a website with unlimited updates and changes as needed and all done for you.
Graphic Design
Need a logo for your startup or a complete brand overhaul? Our team of designers are on hand to deliver on your ideas and produce the digital design to make your brand stand out across all media requirements and formats.
Marketing
All the the best websites and design in the world are no use if your customers don't find you. Our dedicated marketing team deliver personalised advertising and marketing plans based on real analytics and provide insights on how to improve.
Dynamic

E-Commerce solutions from PageNorth
Chat with us
If you'd like to learn more about our range of managed services please get in touch over our live chat and you'll be connected to a knowledgable team member. Live chat operates every business day from 7:30am until 5pm. At any other time you can leave a message and we'll reply as soon as we can.
Live chat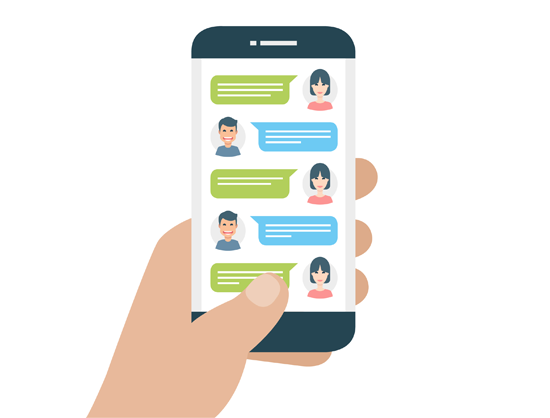 Some of our latest work
We are grateful to have been given the opportunity to work with a range of clients of varying sizes and in diverse business sectors. Our work demonstrates that regardless if you are a large business or a small startup, we can provide services that will improve your business. We judge an improvement as when it makes a positive impact on your bottom line.
View our portfolio
What do you get with your
Managed Website

?
Unlimited Updates
At PageNorth we believe a good website is never finished. That's why with every Managed Website, we offer unlimited updates and changes. Whether that be a completely new bespoke design or a few simple tweaks.
Mobile Friendly
Every PageNorth website is mobile friendly. This means that whether you and your customers are using a smartphone, tablet or desktop computer, you can be assured that your website is going to perform and scale perfectly.
SEO
All PageNorth sites are SEO optimised by design. Our expert team of Search Engine Optimisation consultants will work on your website content to ensure you get the best organic search results possible. We also offer advanced SEO support services.
Copywriting
We believe having a great looking design is only part of a good overall website. Having high quality content and the right amount of information also pays a vital role. We help with the content and will guide you in what we believe will work.
Straightforward Payments
Paying your monthly bill is simple. Once you sign up to a managed plan we will setup a direct debit your fixed payment is deducted from your account every month just like your other monthly services such as Spotify, Netflix and Mobile charges.
A++ Support
If you have any questions, you can live chat to us right here from our website during office hours or alternatively you can reach us on our helpdesk. If you'd rather do it the old fashioned way you can always get in touch via email.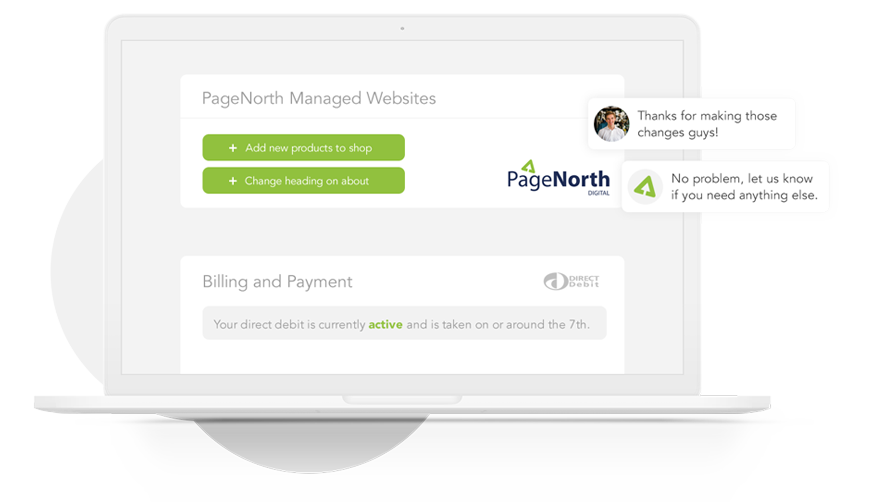 Switch to PageNorth
We find many clients think switching website providers is hard work. It really shouldn't be and it isn't. We make the process of switching to PageNorth simple. We do all the work and will deal with your current provider on your behalf. We won't just port over your old site from your existing provider though, we completely re-create it from the ground up onto our managed platform which in itself will provide a number of benefits. We can use the existing design or create a completely new design as part of the process. It really is as easy as that, we promise!
Start the switch
Explore our services
Whether you are looking for a new managed website or a managed e-commerce solution our team of creative professionals can help you with your requirements. If you would like to learn more about our services, contact us.
Services
Our Plans
If you are interested in joining PageNorth after reading all about us and seeing some of our work, please look at our dedicated plans which are all based on fixed pricing. Alternatively contact us for a chat.
Plans
Let's create something special together
If you've got a project you'd like to share with us, please get in touch.
Get in touch