Customer experience is often regarded as the forefront of any business's success.
It's a simple concept, unhappy customers won't be repeat customers, and definitely won't recommend you.
Unhappy customers will leave you with no customers, so no income, then no business.
Therefore, customer experience should always be a key part of your business plan and model.
Temkin Group, now owned by Qualtrics, conducted a lengthy study and plenty of research into customer experience, and what differentiates good and bad customer experience.
The main difference they found was that good customer experience, comes from a more all-round approach, it isn't just about the customer.
Sounds a bit backward, right?
So, what are the four competencies of good customer experience?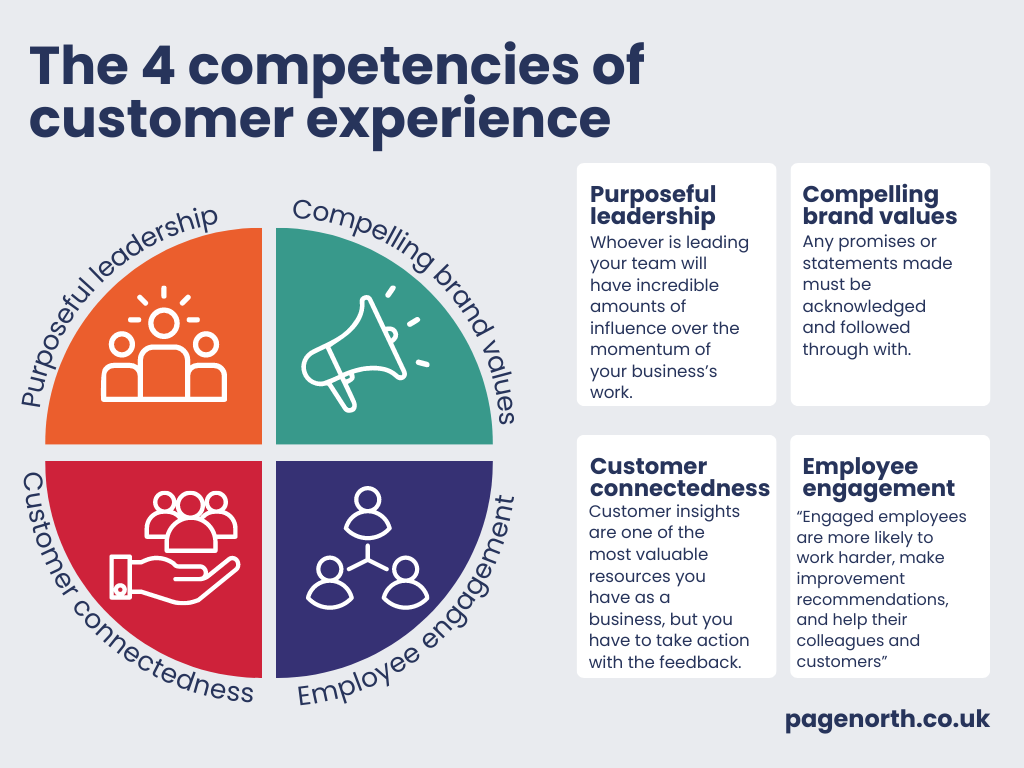 Powerful leadership
Whoever is leading your team will have incredible amounts of influence over the momentum of your business's work.
Growth is defined by your business leaders, Temkin states that your leaders must "operate consistently with a clear, well-articulated set of values".
Another point that Temkin makes is that a strong leader must have these five characteristics:
Persistent
Positive
Propelling
Passionate
Persuasive
Without powerful leadership, you don't have a strong team standing with them.
Any decisions made by management should be understandable, and employees and customers should know that the leadership is following company values and acting with reason.
Often, strong leadership can get confused with callousness, but this isn't the case.
Successful management will be caring and understanding while still having the business's success as their priority.
Compelling brand values
We mentioned that a strong leader has to follow brand values, but you need to have compelling brand values for them to follow in the first place.
Your brand won't be viewed by the public in the same way you see it, to them your brand is one entity, that should be consistent and honest.
As a business owner or employee, you will see your business as a collection of departments and management, so it's easy to forget that the face of your brand must exist as an individual.
Any promises or statements made must be acknowledged and followed through with, the key is upholding trust with your customers.
Leaders and all team members of your business should fully understand your brand's values, and their actions and interactions with customers should reflect this.
If there's consistency with any customer interactions, it will build a healthier relationship with them, leading to their satisfaction and hopefully, loyalty.
Customer connectedness
Temkin says that your decisions should be customer-insightful.
One aspect of this relies on your ability to take customer feedback onboard.
Customer insights are one of the most valuable resources you have as a business, but you have to take action and work with the feedback or it will offer no benefits.
The customer will always be your focus, so you must acknowledge that they are real people who will take a journey with your business during their interactions with you.
It's your job to make the process from the first step to the last, as positive as possible.
It seems obvious, but creating a great customer experience ultimately relies on how you treat your customers.
Take their thoughts and feelings into account, the processes they go through, and how you want them to reflect on the experience as a whole.
Employee engagement
Although customer experience is all about, well, the customer, your employees play a major role in it too.
Temkin Group says that "engaged employees are more likely to work harder, make improvement recommendations, and help their colleagues and customers".
Employee engagement and satisfaction are influenced heavily by management and the workplace culture as a whole.
Happy employees will be much more passionate about their work, meaning they will be more enthusiastic and give energy to customers, ultimately helping the customers and the business.
Temkin Group has listed 5 influences toward employee engagement, stating that you must:
Incent
Inspire
Inform
Instruct
Involve
If you treat employees with respect and make work a positive space for them, they will reflect this onto the customer.
Employee engagement also means that your team will follow brand values more closely, which was mentioned earlier.
Why they matter
Overall, these four key competencies will work with each other, ultimately creating a much more positive experience for the customer.
Happy customers lead to repeat customers, recommendations, and better business!
This is why it's important to fully understand the factors that play a part in customer experience.
For more advice on marketing and improving your business model, contact our team and see how we can help you.