As well as logo design, web design, graphic design and managed eCommerce, PageNorth Digital is also a marketing agency.

Whilst this series of feature articles has previously focussed on the design and evolution of the Levi's logo, this third and final instalment also looks at the rise of Levi Strauss & Co. as a global advertiser and as an 'integrated marketing' force with the use of music playing a central role in their ground-breaking, trendsetting TV and cinema spots.

A global cultural phenomenon

Corduroys heralded the beginning of the 1970s. Also reflecting the styles of the day, bootcut and polyester pants along with denim shirts, coats and casual wear were added to the range.

By this time, Levi's transcended the status of a mere product and had become a global cultural phenomenon. Expansion was needed to keep pace, but the company struggled to raise enough private capital to fund growth.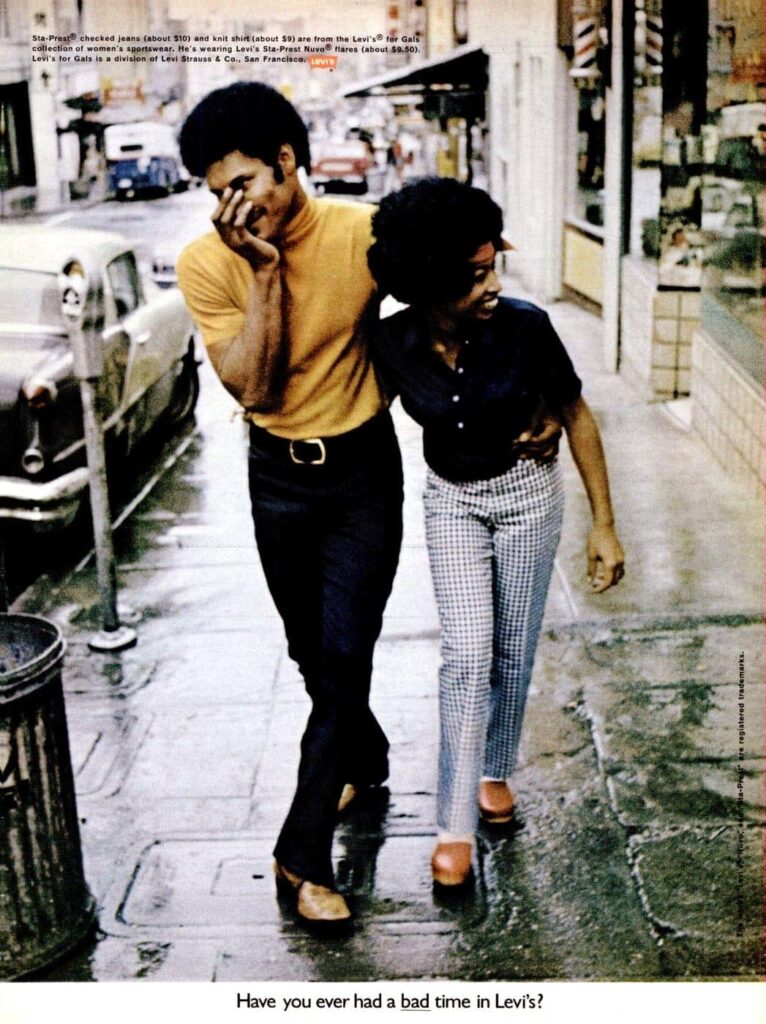 In 1971, Levi Strauss & Co. ended its long-standing status as a family and employee-owned enterprise and became a public corporation.

The company was now operating in 50 countries, including the formation of Levi Strauss Japan.

In 1971, the lettering on the red tab went from all capitals to just a capital 'L' with the rest lowercase in keeping with the Batwing logo which had been in use for 4 years.

The following year, a Levi's factory opened in Dundee employing over 600 people at its hight in the mid-90s. Levi's expanded operations throughout Scotland with new jobs in Whitburn and Bellshill too.
The site in Whitburn - which employed over 600 workers at its peak - was the biggest LS&Co. plant outside North America at the time. There was also a distribution centre in Northampton in the East Midlands region of England.
Under-management

Demand continued to grow to the extent that the company had to cope with a constant shortage of denim. The heavily centralised Levi Strauss & Co. structure became unfeasible and operations were broken into four divisions: Jeans, Levi's for Women, Men's Sportswear and Boys Wear.

In 1973, the phenomenal growth caught up with years of under-management. The European division found itself with huge supplies of outdated straight-legged jeans - as opposed to en vogue flared or bell-bottomed.

The company tried to unload the overstock at a cost of $12 million. As a result, Levi Strauss & Co. announced a losing quarter for the first time since the Depression and the stock price of the company fell dramatically.

Levi Strauss & Co. moved its headquarters from the site it had occupied on Battery Street for 108 years to a large office complex at Embarcadero Center in San Francisco. European operations were also reorganised.
$1 billion
By 1974, product sales had reached $1 billion despite the exposed fallibility of the company.
The perils of being a global business continued when it was revealed that employees in international locations had bribed foreign officials on four separate occasions. Upon discovery, the practice was immediately terminated by the San Francisco head office.
Whilst global operation problems continued, domestic troubles arose in 1976 when Levi's were accused of price-fixing and restraint of trade. The Federal Trade Commission claimed that Levi Strauss & Co. prohibited retailers from discounting its products.

The company agreed to settle the case for $12 million but did not admit wrongdoing. Levi Strauss & Co. gave up suggested pricing but retained freedom not to sell to certain retailers.
Around a million Californians filed claims for refunds. The company settled several suits brought in nine states that charged illegal price-setting practices.
By this time, Levi Strauss & Co. had 22,000 employees, 50 plants in 35 different countries and was worth around $5.2 billion.
It was also 1976 that signalled the start of the start of the story-based TV commercials that Levi's would become celebrated for.

Route 66
Shot in California and London by Hollywood director Adrian Lyne (Flashdance, Fatal Attraction), the 3-minute Route 66 ad tells the story of two young women whose car breaks down on Route 66.
They're rescued by a truck driver and a classic American road trip - complete with diner food and police evasion - unfolds. They make it just in time to meet their favourite band backstage after a concert.
The band is Clover - chosen because Levi's were sponsoring their 1977 European tour - covering Bobby Troup's 'Get Your Kicks on Route 66'. Members of Clover would go on to greater success with Huey Lewis and the News, Toto, The Doobie Brothers and Lucinda Williams.
The British/European 60-second cinema version of the ad (a 30-second version was also used for TV) generated record sales.
The commercial – which cost around £650,000 - got a Gold Lion at Cannes for cinematography and almost won the Palme d'Or.

Levi Strauss & Co. was now the largest clothing company in the world. It also licensed its name to be used on other products such as shoes and socks.

Alongside its denim lines, the company had grown through acquisitions such as Great Western Garment Co. - the Canadian clothing manufacturer responsible for the introduction of the modern 'stone washing' technique, still in use today (acquired 75 percent in 1961 expanding to 100 percent in 1972).

Sales doubled
By 1979, sales had doubled in just four years to hit $2 billion. Further growth occurred with the acquisition of Koracorp Industries - a sportswear manufacturer.

As another transformative decade drew to a close, tastes had changed. Denims had gone from leisure wear to high fashion at the hands of new competitors such as Calvin Klein. Jeans were now acceptable dress for all occasions.

In 1979, construction of a 763,000-square-foot seven story facility along The Embarcadero in San Francisco began. Completed in 1981, the company moved to 'Levi's Plaza'.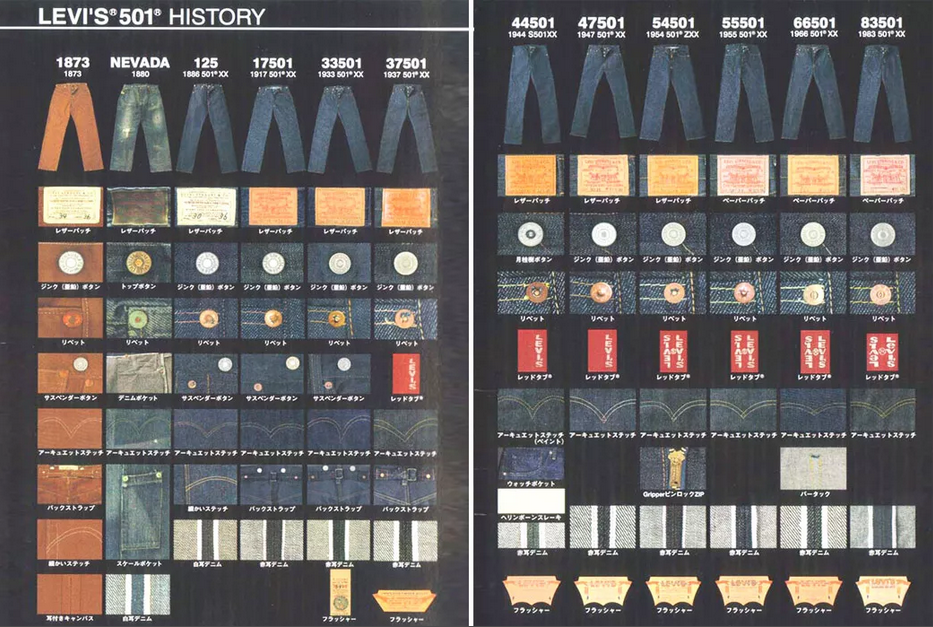 In 1980, Levi Strauss & Co. became the official outfitter for Team U.S.A. at the Lake Placid Winter Olympics.

There had been plans to clothe the American team at the 1980 summer Olympics in Moscow, but the United States' boycott (in protest against the Soviet invasion of Afghanistan) kept the athletes at home.

Further company growth occurred with the acquisition of Santone Industries - a menswear manufacturer.
Profits plummet

Despite selling nearly 589 million jeans in 1981, earnings dropped by nearly 25 percent. As profits continued to plummet in 1982, the company shut down nine plants with a loss of 2,000 jobs.

1983 saw a brief recovery and the company planned a $40 million tie-in with the 1984 Olympics to promote the new active-wear division.

After 130 years of being exclusively a wholesale business, Levi Strauss & Co. opened its first retail store in Vitoria, Spain.

Along with its own shops, LS&Co. continued its wholesale business by introducing products for sale at national chains, department stores and specialty shops.
However, the alarming plunge in net income hit 78 percent with sales 8 percent down from the year before due to new competition and missed trends.
Levi's were becoming something worn by people's dads.

Levi's market share was being eroded by designer labels and budget-priced own labels. Arresting the situation was problematic as cuts in price would run the risk of being seen as cheap.
Wider distribution also had dangers, Levi's were already battling to keep their products from being sold in truck stops in the U.S. and Tesco supermarkets in Britain.

There was no brand leadership in the market. MTV was now the cultural touchstone and Duran Duran, Culture Club and Spandau Ballet dominated the airwaves.
Levi's didn't fit in anymore.
In 1985, the 501 Laundrette TV commercial sent sales skyrocketing by 800 percent according to some estimates. Targeting the 16-24 year old male, it launched the career of heartthrob model Nick Kamen.
The fresh new campaign, dubbed The Original Jean, was set to a newly recorded 'session' version of the Marvin Gaye 1968 classic 'I Heard It Through the Grapevine'.
The original was re-released off the back of the TV commercial and re-entered the music charts as a prime example of 'integrated marketing' - a song in the charts and an advert on TV simultaneously.

It signalled an era of sexiness in Levi's ads and repositioned the brand in the high-fashion market. It also pointed the way to a radically different version of masculinity.
501s had to be set apart from the increasingly fierce competition and show that the design features had a tradition behind them, while the style could change subtly.
The idea had been to posture Levi's as the original jeans - but still contemporary.
In the Autumn of 1986, the advert had to be discontinued because the company couldn't produce enough jeans to meet the new demand.

By 1987, sales of Levi's were said to be 20 times higher than what they had been just 3 years prior.

A mythical America far from contemporary reality

Levi's ads would now feature typical common elements: A mythical, timeless, post-war America, a story involving sexual voyeurism, the actual product wouldn't be shown until the final shot and the ads would end with a humorous claim focusing on an apparently trivial feature of the product.

Advert producer Philippa Crane said, "We developed a Mythical America far from contemporary reality and captured the enduring values of youth: sex, rebellion, freedom and individuality whilst luxuriating in product detail."
The Laundrette commercial became a 1980s cultural touchstone and spawned a host of parodies. In 2018 it was named as one of the best ads in 50 years - "It defined a generation," wrote Campaign magazine's Rick Brim.

Cinemas and style magazines
In 1985, the company was taken private in a leveraged buyout for $1.45 billion by the Haas family.

As well as TV commercials, Levi's were now being advertised in cinemas and in style magazines such as Tatler and The Face to signify connoisseurial taste.
The magazine ads often referenced an elite culture whose meanings were only recognisable to those 'in the know'.
As with Laundrette, LS&Co. couldn't get permission to use an original recording for the soundtrack to Bathtub, so a cover of 'Wonderful World' performed by Tony Jackson (a backing singer for Paul Young) was used.
The reissued Sam Cooke original was a chart hit.
Dockers

In 1986, Levi's launched 'Dockers', a new upscale brand of casual clothing. Taking its cue from British longshoremen, as well as the khaki pants worn by miners in the 1920s, it was one of the most successful brand launches in the history of the American apparel industry.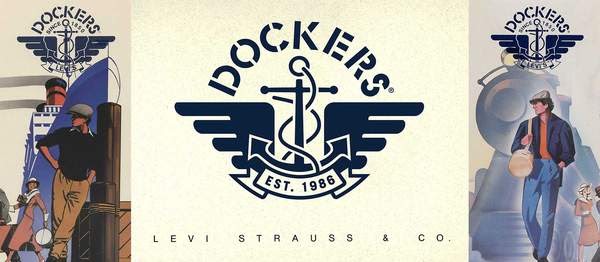 The Dockers line was sold largely through department stores and provided men with "smarter, more comfortable and more versatile clothes for every occasion."

The cotton Dockers pants appealed to older customers, whose expanding waistlines didn't fit into traditional jeans any more.

The brand wasn't released in Europe until 1994.

With Dockers flourishing, the company was in a position to take on multibillion-dollar debt to finance stock buyouts for family members.
Featuring the Percy Sledge classic 'When a Man Loves a Woman', Parting is a mini-drama.
A young woman sees-off her soldier boyfriend at a bus station. The protagonist tearfully arrives home and opens a package that her boyfriend had handed to her before leaving.

Inside are a pair of old 501s, she takes off her skirt and puts them on. In the back pocket, there's a love letter which she opens whilst sitting on her bed wearing her beloved's jeans.
---
1987, My Girl - WATCH
1988, Entrance - WATCH
1988, Cochran - WATCH
1988, Refrigerator - WATCH
1988, Jamie Walters - WATCH
1989, Pawnbroker - WATCH
---
Most Levi's ads served as a product demonstration. Pick-Up was a two-horse test carried out in a more modern way featuring a pair of 501s being used as a tow rope.
Innovative denim finishes, such as bleaching and stonewashing, saw sales reach $4 billion by 1990.

The new decade began with the closure of a plant in San Antonio, Texas. 1,150 seamstresses, some of whom had worked for Levi Strauss for decades, saw their jobs exported to Costa Rica.
1991 saw LS&Co. implicated in a scandal involving products represented as made in the U.S.A., but were actually manufactured in the Northern Mariana Islands in illegal sweatshops.
Some 3 percent of Levi's jeans sold annually with the Made in the USA label were shown to have been made by Chinese labourers under what the United States Department of Labor (sic) called "slavelike" conditions.
Subcontractor Tan Holdings Corporation was fined nearly $10 million by the U.S. government - the largest penalty in U.S. labour history.

Levi Strauss & Co. took steps to develop the first known set of comprehensive standards for manufacturing contractors worldwide, dealing with wages, hours, working conditions, ethics and the environment.

1991 saw LS&Co. open its first retail store in the United States in Columbus, Ohio.
Swimmer referenced the Burt Lancaster film The Swimmer (1968), the soundtrack was 'Mad About the Boy' by Dinah Washington. "The more you wash them, the better they get" was the tagline.
High-priced prestige
LS&Co. spent $230 million on advertising in 1992. Having previously been available at affordable prices in mid-range shops, Levi's began to appear in high-end stores with a considerably higher price tag.

The company also began to open its own stand-alone boutiques.

In 1992, foreign sales represented close to 40 percent of revenues and over 50 percent of profits.
The focus was now on international sales. Classic 501s were positioned as a high-priced, prestige product sold at boutiques in Europe and Japan (at double the U.S. price).
A flagship store in Manhattan, New York opened across the street from Bloomingdale's in 1993.
The following year, LS&Co. opened a flagship Original Levi's store in London.

By this time, sales of Dockers alone came to $1 billion and represented almost 30 percent of Levi's domestic sales.
In 1994, LS&Co. hired musician Peter Lawlor to create original soundtracks for forthcoming 501 commercials. The first composition to be used was 'Fictional Self' in the Oilrig advert.
Emulating the 90s Seattle sound, this was a departure from the classic blues, rock and soul previously favoured.
Creek

For the next commercial, Lawlor needed a vocalist for the rather anachronistic 'Inside'. After several auditions, he hired Ray Wilson - the eventual lead singer of Scottish rock band Stiltskin.

Despite the introductory choral singers, the version used in the advert was essentially an instrumental with Lawlor playing all of the instruments - Wilson sang on the track that was released.

20 days after Kurt Cobain's death, 'Inside' arrived in record shops at the peak of the grunge band era.

In May 1994, it topped the British top 40 - yet another number one following use in a Levi's ad.
Creek culminates with the realisation that the stolen jeans don't belong to man bathing in the water. It's a continuation of Levi's humour which can be traced back to the overweight man who surveys Nick Kamen in Laundrette.
On 24th August 1994, the levi.com domain name was registered and the first Levi's website was launched later that year.
Planet

Up until 1995, Levi's ads had featured a vintage America. The brand territory was originality - the original and definitive jean.

Levi's advertising typically had the aforementioned elements of a post-war America, sexual voyeurism and the full product not shown until the final shot with a humorous product claim.

In a move away from the vintage, post-war America styling, the new Planet commercial was to promote the recently launched 501s for women.
Planet is set in a small town reminiscent of 50s America, but on a remote planet.

A mother and father pace anxiously in their futuristic living room awaiting the arrival of their daughter who has not come home with the family spaceship on time.
Eventually showing up, the spaceship lowers down with an abrupt thud, much to the chagrin of the father. Played by Russian-born model Kristina Semenovskaia, the daughter nonchalantly emerges from the spacecraft in a pair of 501s.

To the astonishment of her father, she casually hands him the keys as she passively walks by. The endline reads: 'The only jeans in the universe cut from 01 denim. 501. The original jean.'
The song used in the ad was 'Spaceman' by Babylon Zoo. It entered the British top 40 at number one in January 1996.
It sold 383,000 copies in its first week of release, making it the fastest-selling debut single in British history and the fastest-selling British single since 'Can't Buy Me Love' by The Beatles.

It was the sixth song to reach number one in Britain after being featured in a Levi's advert and proof, if proof be needed, that having your song selected by Levi's meant a guaranteed a chart hit.
Featuring fashion designer Zaldy, a sleazy taxi driver drools over a pretty girl in back of his cab. The girl then puts an electric shaver to her face revealing that she's transgender.
The Advertising Standards Authority had refused to air Taxi outside of late night viewing, but media interest lead to them revise the decision and allow it to air after 8pm.
Originally released in 1993, 'Turn On, Tune In, Cop Out' was a Norman Cook (Fatboy Slim) production under the guise of Freak Power.

Following its use in Taxi, the song was re-released in March 1995 peaking at number three on the British top 40.
Clayman features a plasticine animated man saving a plasticine woman from a burning building using his 501s. It won the Public Choice: Favourite Commercial category at the 1996 British Animation Awards.
Shifting from advertising with a cinematographic feel, the soundtrack featured 'Boombastic' by Shaggy - another British number one - adding to the humorous spirit.

It was the first LS&Co. global commercial running in countries on all five continents.
With revenues at $7.6 billion, Levi Strauss & Co. was now virtually debt-free. The company announced a series of leveraged stock buyouts among family members to concentrate stock in fewer hands.

Levi Strauss & Co. Vs Tesco

A highly public skirmish between Levi's and Tesco broke out in March 1996 as the supermarket giant bought 45,000 pairs of 501s from a factory in Mexico.
501 stonewash jeans were suddenly available from 128 British Tesco stores for £30 - significantly undercutting the £55 price of the authorised outlets.
Levi's stated that a supermarket gave the wrong image to what was meant to be a must-have fashion item.
Levi's blocked them from receiving its supplies, but Tesco imported a further 32,000 pairs bought directly from retailers in the United States where 501s retailed for as little as £18.

In 2002, Tesco lost a landmark legal case for the right to sell designer goods. After a four-year battle, the High Court upheld a ruling from November 2001 that the supermarket was not allowed to sell cut price 501s without permission from Levi Strauss & Co.
Using the 1954 logo, Levi's Vintage Clothing (LVC) - a line of reproduction items from the Levi Strauss Archives - was introduced worldwide.

An unusual move occurred in June of 1996. LS&Co. offered to pay its workers a dividend of up to $750 million in six years' time, having halted an employee-stock plan during the internal family buyout.
However, the company failed to make cash-flow targets and no worker dividends were paid.
In 1997, sales hit a peak of $7.1 billion.
However, over the following 5 years, sales would fall every year due to competition from high-end brands such as Diesel, Calvin Klein and True Religion.
---
1997, Kung Fu - WATCH
1997, Washroom - WATCH
1997, Impala Man - WATCH
1997, Car Chase - WATCH
1997, Ice Cream Man - WATCH
1997, Bag Boy Fantasy - WATCH
1997, Test Drive Date - WATCH
1997, Car Wash - WATCH
---
In 1999, the company opened a Levi's store in San Francisco's Union Square. The location was historic, just across from Stockton Street where Levi Strauss lived from 1863 to 1864.

29 plant closures around the world saw the loss of 10,000 jobs. Half of the company's manufacturing facilities in the U.S. had been lost and four factories closed in Europe.

Flat Eric

Sales were down by 13 percent and the company had to lay-off 30 percent of its U.S. work force.

In an effort to head off competition from the likes of Tommy Hilfiger, Diesel, Evisu and value brands like Lee and Wrangler, the company switched its advertising strategy to a more clever, underground and different feel for the new Sta-Prest commercial.

Featuring a bizarre-looking yellow puppet, the surreal Flat Eric campaign became a global pop culture fad with its use of 'Flatbeat' - a repeated bass loop by French musician Quentin Dupieux under the pseudonym of Mr. Oizo.

'Flat Beat' reached number one in Austria, Finland, Germany, Italy and Britain. In 2003, Q Magazine ranked 'Flat Beat' at number 175 in their list of the '1001 Best Songs Ever'.
As the new millennium approached, Levi's 501s were named as Time Magazine's fashion item of the century beating the miniskirt and Coco Chanel's little black dress.
By 2001, revenues dropped to $4.25 billion.
Over a six-year period from 2001, LS&Co. was litigious in trademark infringement cases filing nearly 100 lawsuits against competitors. The company had always ferociously protected its IP as far back as the 1800s.

Most cases involved imitation of the back pocket arcuate which had been trademarked in 1978.
LS&Co. successfully sued Ralph Lauren, Guess, Esprit, Zegna, Zumiez and Lucky Brand amongst others.

Odyssey

Odyssey was beautifully shot, innovative and effective.
Alongside the strings of Handel's 'Sarabande', the cutting-edge special effects were a massive undertaking by world-renowned visual effects company Framestore.
The liberating footage features a man and woman sprinting through concrete walls head-on. The commercial peaks as they scale trees, accelerating upwards and launch themselves skywards without fear.
Sales of the Engineered range increased by 200 percent.
In 2002, the company closed its Valencia Street plant in San Francisco which had opened back in the April of 1906 in the aftermath of the earthquake and subsequent fire.

Scottish cutbacks meant 1,500 job losses in Whitburn and Bellshill. Levi's left Dundee completely in 2002 due to the "challenging economic climate". From the 1997 peak of $7.1 billion, profits had slumped to $4.1 billion.
In 2002, a close business collaboration with Walmart started with a special line of 'Signature' jeans and other clothes for exclusive sale.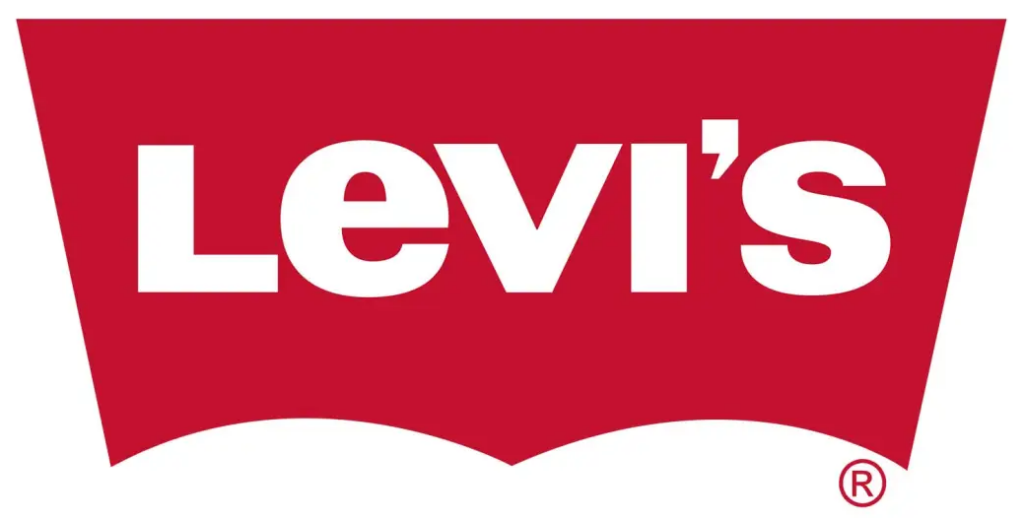 In 2003 as Levi Strauss & Co celebrated the 150th anniversary of its founding, the 'Batwing' underwent a subtle refresh 36 years after the 1967 original.

Featuring sans serif URW Linear Wide Ultra Bold, the square apostrophe is the most obvious change.
The intensified red hue of the 19-1761 TPX pantone provided the background for the reduced height of the typeface for a fuller appearence.
In 2022, the Batwing is used in many different ways. T-shirts featuring the classic red are a staple, but the logo is now commonly seen in other colours, even rainbow colours.
The transition of the 'Batwing' logo from 1967 - 2003.
Present day

The pop culture dominance of Levi's transformed Levi Strauss & Co. from a successful regional company into one of the world's largest clothing brands.
The firm is still owned almost entirely by indirect descendants and relatives of Levi Strauss, whose four nephews inherited the San Francisco dry goods firm after their uncle's death in 1902.
Levi Strauss & Co. is still based in San Francisco, but very little of their total output is made domestically.
For decades, the brand has been synonymous with quality, durability, style and fashion.
Today, the company is an omnichannel brand. One-third of Levi's business now comes from selling direct-to-consumer via levi.com and in 110 countries via approximately 50,000 retail locations.
Despite their humble working origins, Levi's are now positioned in the middle to high income market. A pair of 501s from the Edinburgh Princes Street store start from around £100.
In 2022, the brand remains a global symbol of reputable, authentic, stylish, premium quality.