It's not uncommon for a typeface to go out of fashion. Many brands opt for revisions and logo redesigns over time, so to see a pre-20th century wordmark in this day and age is a rarity.
Contrary to popular belief, Stella Artois is not the oldest commercial logo that has been in continuous use.

Nor is it the Guinness harp (1862), Bass Ale (1876), Levi Strauss & Co. (1886), Heinz (1897), John Deere (1897) or Shell Oil (1904).
When it comes to branding, no company can boast more impressive longevity than Twinings.
Acceptable for women
It was Catherine of Braganza, Queen of King Charles II, who made tea-drinking a fashionable activity for the affluent. In 1662, she brought tea from her home country of Portugal to England and invited friends to join her for private tea parties at the Royal Court.
In the early 18th century, coffee houses were a popular feature of London life. Men - but never women - of all classes would gather there to drink, gossip and do business.
Competition between the 2,000-plus London coffee houses was stiff and tea was fast becoming a fashionable drink amongst the upper-class ladies of London.

London's first tea room

Since coffee shops were for men only, the society women would wait outside their carriages and have their footmen buy the tea.
In the coffee-dominated landscape of 1706, Thomas Twining introduced fine quality tea as his point of difference when he opened London's first tea room at No. 216 Strand. Furthermore, he made it one of the few places where it was acceptable for women to be unescorted by a male.
The shop also offered gin, beer and coffee - the popular breakfast beverage of the time because the public water was so contaminated.

Five years later, Twinings was supplying tea by royal appointment to Queen Anne. By 1734, coffee had been phased out in order to focus on tea.

The shop entrance
The basis of the Twinings logo came in 1787 when Richard Twining I (grandson of Thomas) commissioned an entrance representing a familial symbol of strength and the Eastern origins of the tea - a golden lion, two Chinese men and the distinctive, classic serif font wordmark.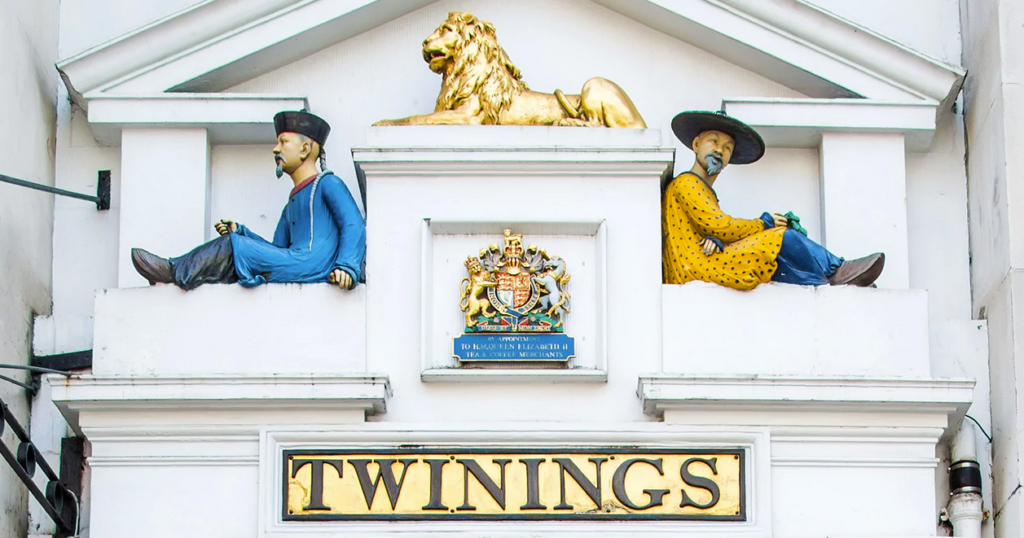 The lion is said to represent the power and might of the Twining family and its enterprise. The lion is lying down as a sign of respect towards founder Thomas Twining.

The men to the left and right of the lion represent the trade with China (for a very long time, it was the only country where tea leaves were grown).

Royal Warrant

Twinings exclusively got its tea from China, a major supplier of tea to multiple European and American sources, until 1839. Tea from India began to be used from 1839 and Ceylon (modern day Sri Lanka) from 1879.

Twinings received a Royal Warrant from Queen Victoria in 1838. It has held a Royal Warrant from each successive British monarch ever since.

With the warrant came permission to display the Royal Coat of Arms in connection with its business.
In 1910, Twinings made their first international move with a shop in Paris.
In 1933, Twinings went on to blend its famous English Breakfast tea which is still available today.

In 1956, Twinings produced tea bags for the first time.
The oldest commercial logo
Twinings is the oldest commercial logo that has been in continuous use since it was made, the shop entrance is listed as a monument.
The Twinings wordmark is a minimal, classy and timeless serif font.
The logo features a regal crest depicting a lion and two gold stars. The symbolism of the stars is unknown, but the lion represents the resilience of the Twining family and the strength of the tea.

A hand holds two serpents at the top of the crest - a key feature of the original Twining family crest. The words 'fortiter ac firmiter', Latin for 'strongly and firmly' feature at the bottom.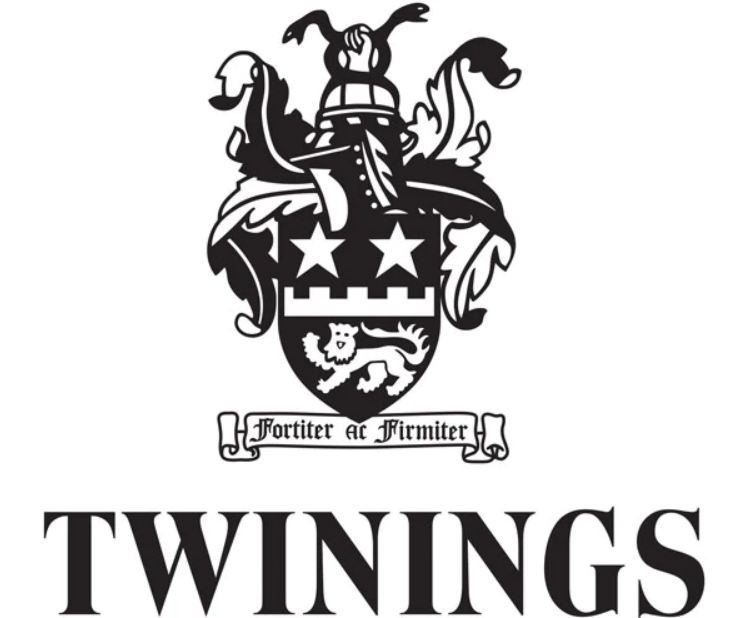 The Twinings logo matches its industry and product. It communicates its historical background with success.

Design trends change, but the Twinings logo is not only enduring, but also timeless with classic typography similar to Times New Roman Bold Condensed.
The London tea room, exactly opposite the Royal Courts of Justice, is still open today.

Twinings overtook PG Tips to become the highest-selling tea in Britain in 2019. It's sold in 115 countries.

Does your company need a logo? Check out the graphic design and logo services on offer from PageNorth Digital.