Searching is easier than it's ever been, partly due to the number of voice assistants like Siri, Alexa, and Google Assistant.
Due to this, optimising your website for voice search has become an essential part of SEO if you're looking to stay ahead of the curve.
Voice search is the preferred method for many people, and it's accessible because of the rise of smart speakers and voice-enabled devices.
One method of optimisation when it comes to voice search is focusing on long-tail keywords that will match the natural language patterns of your target audience.
Keyword research is a must, we use SEMRush, but there are plenty of other tools, such as Google Keyword Planner, and using these tools can help you identify long-tail keywords that match the searcher's natural language.
Featured snippets are summaries of answers to user queries, that will appear at the top of the search engine results page (SERP).
Optimising your website for featured snippets can help boost your chances of appearing in voice search results, which is a great way for people to find you.
As long as your content is informative, concise, and relevant, it could be used as a snippet.
If you structure your content in a way that will answer the likely user queries, as well as using clear headings and bullet points, it will make your content more readable and simplistic for the search engine to grab.
As always, website speed is a very important aspect of your ranking, and this goes for your website's performance in voice search results too.
Google considers website speed as a ranking factor, so it's essential to optimise your website's loading speed, plus it greatly improves user experience.
Your website should be optimised for all devices, including mobile, you can use tools like Google PageSpeed Insights to check your website's speed.
FAQ (Frequently Asked Questions) pages are a helpful thing to have on your website anyway, but they can also significantly improve your website's performance in voice search results.
A voice query will usually be in the form of questions, so having an FAQ page that addresses the common questions related to your business will improve your website's performance.
Use natural and human language to create these questions and answers, and make sure the content is short and accurate to fit the format.
Schema markup is a structured data format that gives search engines information about your website content.
Making use of schema markup will help search engines better understand your website's content and make it more likely that you'll appear in voice search results.
Use schema markup to mark your content, such as your business name, address, contact information, and any other relevant information.
Keeping your website optimised for local search is crucial when you're looking to reach your local customers.
Voice search is often location-based, depending on the query, so optimising for local search helps you rank in a number of search types.
Again, ensure your website has all your essential information, address, contact details, and open hours, then claim and optimise your Google My Business listing.
Overall, optimising your website for voice search requires a slightly different approach than traditional SEO.
Focusing on long-tail keywords, optimising for featured snippets, improving website speed, creating an FAQ page, using schema markup, and optimising for local search can really help your website's performance in voice search results.
Use these tips to increase your online visibility, increase traffic and get in front of your competitors in voice search results.
Do you need help with your website's SEO?
Take that first step and contact our team, we can help your business get the traffic it deserves.
In every industry, having a website is considered the standard.
It allows leads to find you easily and understand what you do.
When deciding on how to acquire a website, your two options are to either build it yourself or use a professional service.
With plenty of website builders available, creating one yourself may seem simple, but there's a lot more to web design than meets the eye.
Using a website design and development service ensures that your website will meet all your needs, as well as looking great while doing it.
Speed
With website builders and content management systems being available, many people think that website design is a quick and simple process.
This isn't the case.
To build a website that is user friendly, aesthetically pleasing and fully functional takes time.
The first step is establishing a brand, branding goes past logo design and a colour scheme.
You have to think about brand personality, all aspects of your identity.
Something simple like the font can completely change the tone you are setting with your design.
Then you have to establish the full design system, how will each page be unique but still remain consistent and coherent.
With many steps and considerations, designing a brilliant website can't be done in an hour, even if website builder advertisements tell you otherwise.
One man army
DIY websites may seem appealing to many, but it allows lots of things to slip through the cracks.
With a website design company, there will be a team and collaboration of different departments, all working on your website.
The website design team can plan out your website and make sure that everything looks great, then it will be handed to the website development team.
Having more than one set of eyes is always beneficial.
It covers all bases, nothing will be forgotten about or considered low priority.
This also speeds up the process of building a website, nobody is struggling to multitask.
Out of sight, out of mind
If you are building your own website using a CMS, with no web design or development experience then your focus will be on appearance.
Many people forget about the importance of the backend, even if the user can't see it, it's still important.
Plugins, images, videos and animation can all affect your sites speed and performance.
The backend heavily affects your ranking.
If you want your website to show up when people search for your keywords, there's a number of factors that need to be considered while developing your site.
A website design company will take care of this and ensure that your website has all the backend SEO in place, giving you more visibility.
Finished at last
You've built and published your website, so you don't have to worry about it anymore, right?
Wrong.
It's incredibly important to keep your website current.
As the industry changes, you should change with it.
Your website can't just be four pages with a header image and some text, like it used to.
Now you must continuously develop, modernise and add flair to your website.
Whether its kept active with blog content or just general updates, website maintenance is just as important as the initial design and development.
Where does that leave you?
Ultimately, the choice is yours.
Website design isn't a quick and easy process, even with a web design service you can be involved in the development and get your say.
Your vision, brought to life.
Use your creativity and allow us to develop the site you deserve.
Let us handle it and contact our team!
The way that consumers shop has changed dramatically, due to us living in a predominantly digital world.
Going to the high street or shopping centre isn't the only way to make purchases.
Statista found that over 80% of the population uses online shopping and that 57% of consumers would rather shop online that go to a physical store.
Taking this into account, let's get into to benefits of having an eCommerce store.
Lower costs
There's lots of costs that come with running a store.
Firstly, you must rent or buy the space you are selling from, the more foot traffic you are likely to get, the higher the rent cost will be.
Then there's bills on top of that, electricity and water being two basic examples.
When you first open a store, you have to furnish it, any renovation and maintenance costs for the building are continuous.
To put it simply, the costs of having a physical store will pile up.
An eCommerce store has none of this.
The cost of a website is much lower and comes with a lot less issues in the long run.
You pay to have a website built, most website developers will include the cost of hosting and a domain in their price, so you don't have to worry about that.
An eCommerce store is also lower because of labour costs.
A store must always have staff to be open, you need staff to look after the store everyday and they must be paid for their hours.
As well as cashiers and people to do stocking, you might even need security to ensure the safety of staff, customers and products.
Convenience
Having an online store is also more convenient for you and customers.
Many people prefer to shop from the comfort of their own home, this is also helpful for people with time consuming jobs.
Online shopping gives customers 24-hour access to the products they want and need.
Not just is it easy for the customer, it makes your life easier too.
You can run your business from home, there are no opening times for your store and it can run itself at night.
This lets you balance your work life and personal life while still giving customers constant access to your products.
Scalability
eCommerce stores make stock tracking much easier.
You can determine which products are selling well and which aren't, so that you can adjust supply to meet demand.
Clothing as an example, if you had a t shirt that was selling really well, you could release it in more colours to diversify your product line.
You can scale up your business sales, customer base and profits.
You can also grow your business as a whole, as expansion can happen naturally.
You don't have to open new locations or enter new geographical markets.
An eCommerce store will expand with its popularity, as long as you can deliver internationally.
Niche market access
If you visit your local high street, the same kinds of shops will usually be present.
Drugstores, a few mainstream clothing shops, convenience stores, your 'Poundland', 'Savers' type shops.
All of which are good and provide a lot of the goods that people need, but you will rarely find any stores selling more niche and specified products.
This is because the local customer base can be too small, unless you are in a big city.
Online, searching for obscure and specific products will still bring results, as someone somewhere will be selling it.
Due to this, eCommerce stores allow you to reach your target audience easily with keywords.
Customer tracking
A key aspect of your business's success is how you use the data you receive to make improvements.
Having an eCommerce store lets you receive, track and work with this data in a much simpler way.
When you search online and click on a website, you will see the 'cookies' pop up on your screen, asking for your preferences.
This is to track your habits and journey as the audience, so that the company can use your data.
Online stores let you track where your customers are coming from, so then you can alter your marketing funnels.
You can see their buying habits and trends, so you know when its better to run ad campaigns that will bring conversions.
There's a whole range of things you can do, tracking to this level simply isn't possible in a physical store.
Customer information can also be saved if they make an account, to make their checkout easier in future.
Redirection
While marketing, there are steps you take before making a sale.
The first step in the marketing funnel is attention.
It's easy to grab someone's attention with an advert or deal, the hard part is keeping it.
You have a good marketing campaign going, people are seeing and connecting with your message, but they will have to make a physical trip to your store to make a purchase.
This can discourage the customer; many simply don't have the time to travel to a store and browse.
If you have their attention, its much easier to redirect them to an online store as it takes no effort on their part.
A single click and they can browse, the customer can look anywhere, at any time.
They can even keep the page open and come back to it if they're in a rush.
Conclusion
Running an eCommerce store might not work for everyone.
Technology may be advanced, but we still cant get digital haircuts.
If you have physical products or services that don't require the customer to be present, eCommerce stores can be brilliant for you.
You can even have an eCommerce store as well as a physical store, a cheaper way to expand from your location.
It's affordable and easy.
If you are thinking about getting an eCommerce website, our team can help you.
Get in contact to discuss your options and perfect website.
It's not uncommon for a typeface to go out of fashion. Many brands opt for revisions and logo redesigns over time, so to see a pre-20th century wordmark in this day and age is a rarity.
Contrary to popular belief, Stella Artois is not the oldest commercial logo that has been in continuous use.

Nor is it the Guinness harp (1862), Bass Ale (1876), Levi Strauss & Co. (1886), Heinz (1897), John Deere (1897) or Shell Oil (1904).
When it comes to branding, no company can boast more impressive longevity than Twinings.
Acceptable for women
It was Catherine of Braganza, Queen of King Charles II, who made tea-drinking a fashionable activity for the affluent. In 1662, she brought tea from her home country of Portugal to England and invited friends to join her for private tea parties at the Royal Court.
In the early 18th century, coffee houses were a popular feature of London life. Men - but never women - of all classes would gather there to drink, gossip and do business.
Competition between the 2,000-plus London coffee houses was stiff and tea was fast becoming a fashionable drink amongst the upper-class ladies of London.

London's first tea room

Since coffee shops were for men only, the society women would wait outside their carriages and have their footmen buy the tea.
In the coffee-dominated landscape of 1706, Thomas Twining introduced fine quality tea as his point of difference when he opened London's first tea room at No. 216 Strand. Furthermore, he made it one of the few places where it was acceptable for women to be unescorted by a male.
The shop also offered gin, beer and coffee - the popular breakfast beverage of the time because the public water was so contaminated.

Five years later, Twinings was supplying tea by royal appointment to Queen Anne. By 1734, coffee had been phased out in order to focus on tea.

The shop entrance
The basis of the Twinings logo came in 1787 when Richard Twining I (grandson of Thomas) commissioned an entrance representing a familial symbol of strength and the Eastern origins of the tea - a golden lion, two Chinese men and the distinctive, classic serif font wordmark.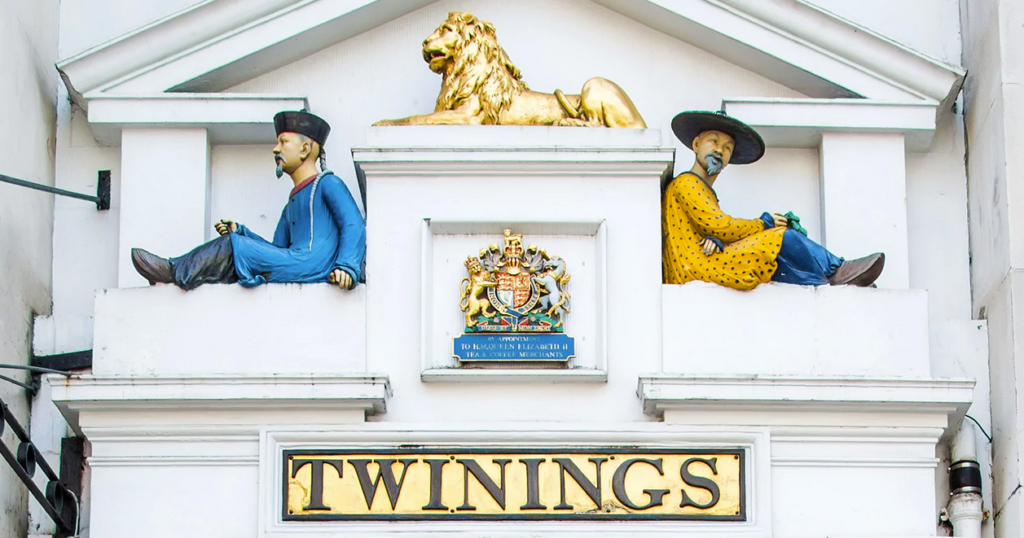 The lion is said to represent the power and might of the Twining family and its enterprise. The lion is lying down as a sign of respect towards founder Thomas Twining.

The men to the left and right of the lion represent the trade with China (for a very long time, it was the only country where tea leaves were grown).

Royal Warrant

Twinings exclusively got its tea from China, a major supplier of tea to multiple European and American sources, until 1839. Tea from India began to be used from 1839 and Ceylon (modern day Sri Lanka) from 1879.

Twinings received a Royal Warrant from Queen Victoria in 1838. It has held a Royal Warrant from each successive British monarch ever since.

With the warrant came permission to display the Royal Coat of Arms in connection with its business.
In 1910, Twinings made their first international move with a shop in Paris.
In 1933, Twinings went on to blend its famous English Breakfast tea which is still available today.

In 1956, Twinings produced tea bags for the first time.
The oldest commercial logo
Twinings is the oldest commercial logo that has been in continuous use since it was made, the shop entrance is listed as a monument.
The Twinings wordmark is a minimal, classy and timeless serif font.
The logo features a regal crest depicting a lion and two gold stars. The symbolism of the stars is unknown, but the lion represents the resilience of the Twining family and the strength of the tea.

A hand holds two serpents at the top of the crest - a key feature of the original Twining family crest. The words 'fortiter ac firmiter', Latin for 'strongly and firmly' feature at the bottom.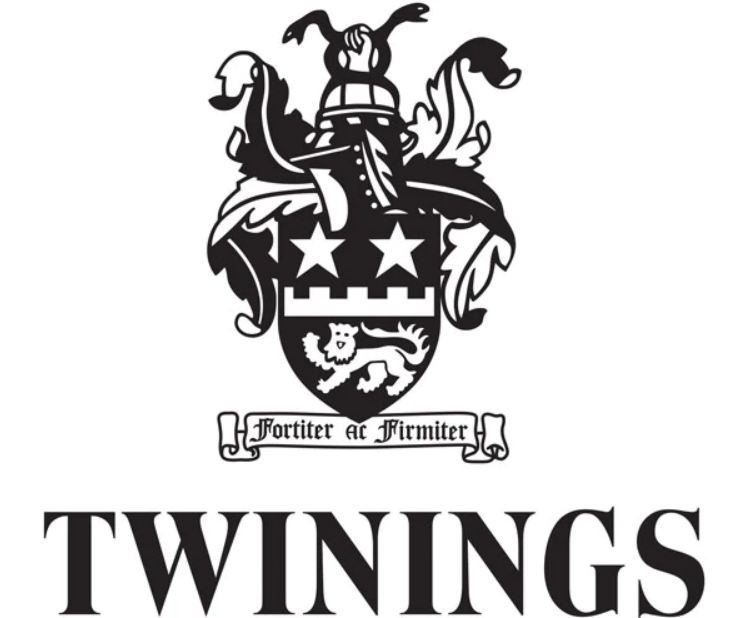 The Twinings logo matches its industry and product. It communicates its historical background with success.

Design trends change, but the Twinings logo is not only enduring, but also timeless with classic typography similar to Times New Roman Bold Condensed.
The London tea room, exactly opposite the Royal Courts of Justice, is still open today.

Twinings overtook PG Tips to become the highest-selling tea in Britain in 2019. It's sold in 115 countries.

Does your company need a logo? Check out the graphic design and logo services on offer from PageNorth Digital.
According to a 2014 article in TIME magazine, Stella Artois is the world's oldest logo.
The origins of the Belgian pilsner go back to 1366 when the Brouwerij Den Hoorn - The Horn Brewery - was established in Louvain (Leuven).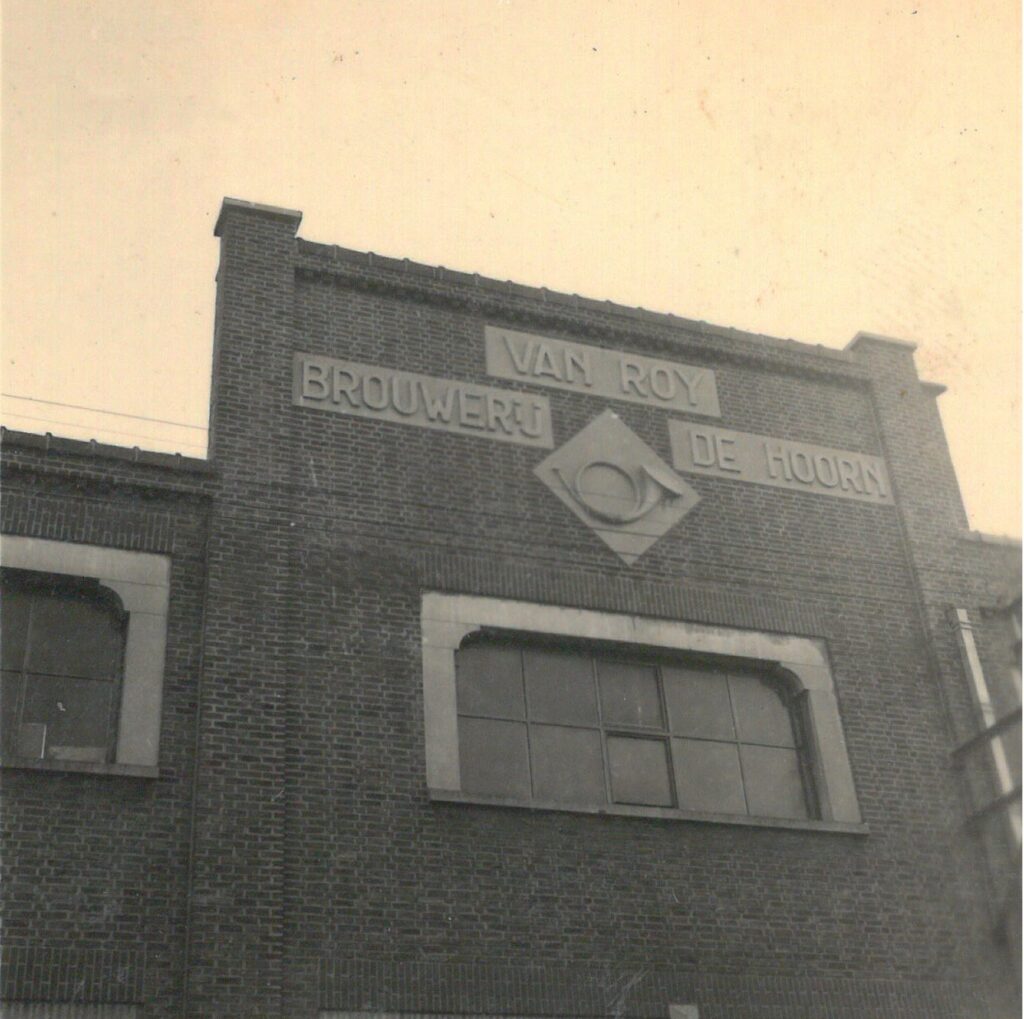 Brouwerij Den Hoorn was part of a tavern brewing its own beer to sell to hunters who would come to rest after a day of hunting. The brewery is named after the hunters horn.
Local brewer Sebastian Artois, a member of the Leuven Brewers' Guild, bought the brewery in 1717 and renamed it La Brasserie Artois. He kept the horn logo.
Fast forward to 19th January 1926, the Artois Brewery filed a request for the brand name 'Stella' at the commercial courthouse in Leuven.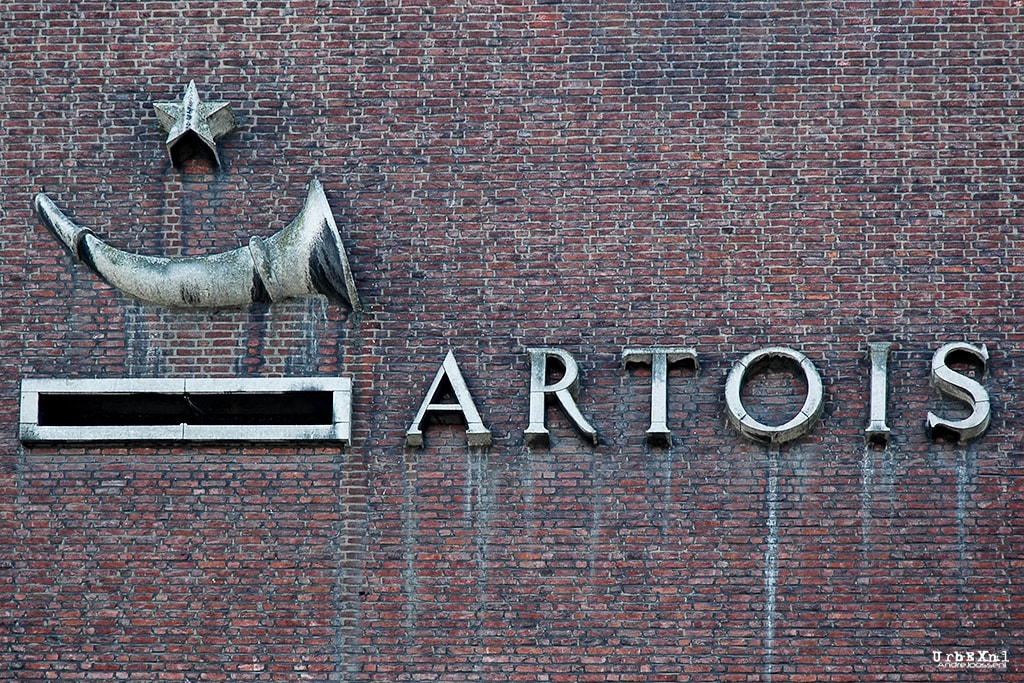 It's said that the brewery produced a special edition Christmas beer for Leuven locals called 'Stella' named after the Star of Bethlehem (stella, means 'star' in Latin).

The story goes that it was such a success that the seasonality was quickly dropped and it became available year-round by 1930.

The brewery rebranded to match the name of its most popular product. The star had been added to the labelling to dress it up for the festive period, but it's now a permanent feature of the emblem.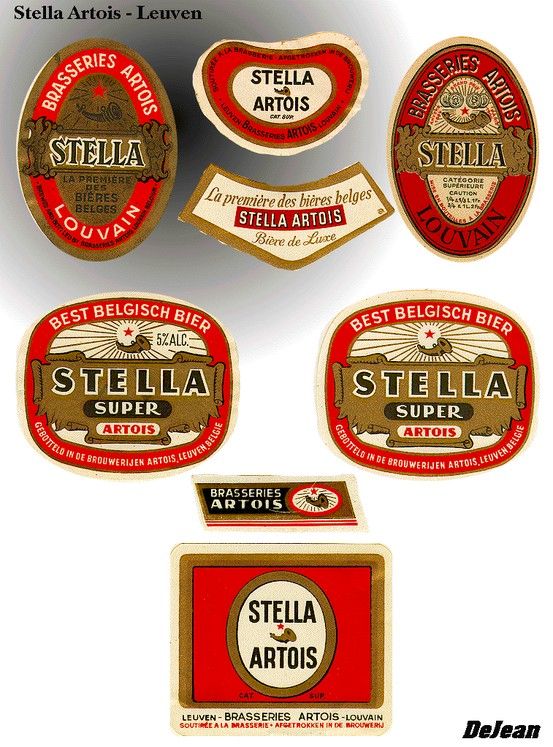 Despite the 20th century origins of the name, the brewery has remained connected to its roots in the 14th century. 'Anno 1366' - meaning 'the year 1366' - forms part of the design.
There are claims that the Brouwerij Den Hoorn has 'only' been around since 1466 - which would make the 1366 year shown on labels erroneous. But Leuven city tax records dated 1366 mention the existence of a local brewpub called Den Hoorn.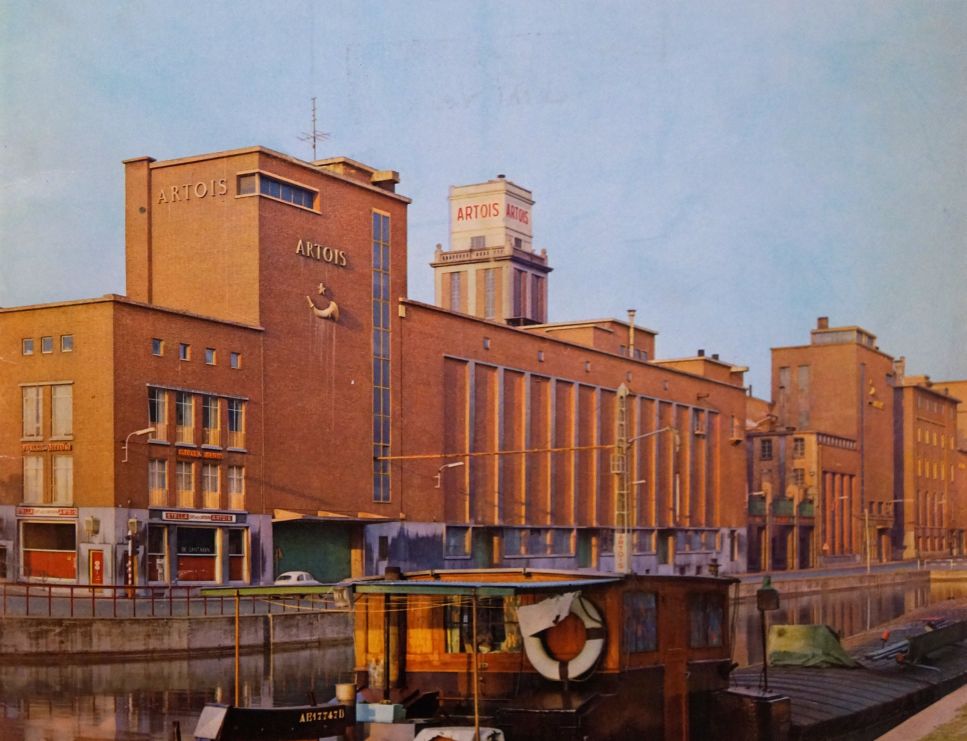 Either way, it can be argued that the horn part of the modern Stella Artois cartouche is the world's oldest commercial emblem still in use - but just the horn part, not the Friz Quadrata style sans serif typeface.

Twinings has a much stronger claim to the title of the oldest logo still in use.
Does your company need a logo? Check out the graphic design and logo services on offer from PageNorth Digital.
Aside from uploading it directly, there are three ways to tweet someone else's footage.
For this exercise we're using a desktop PC and we're going to use the below from the official Wimbledon account: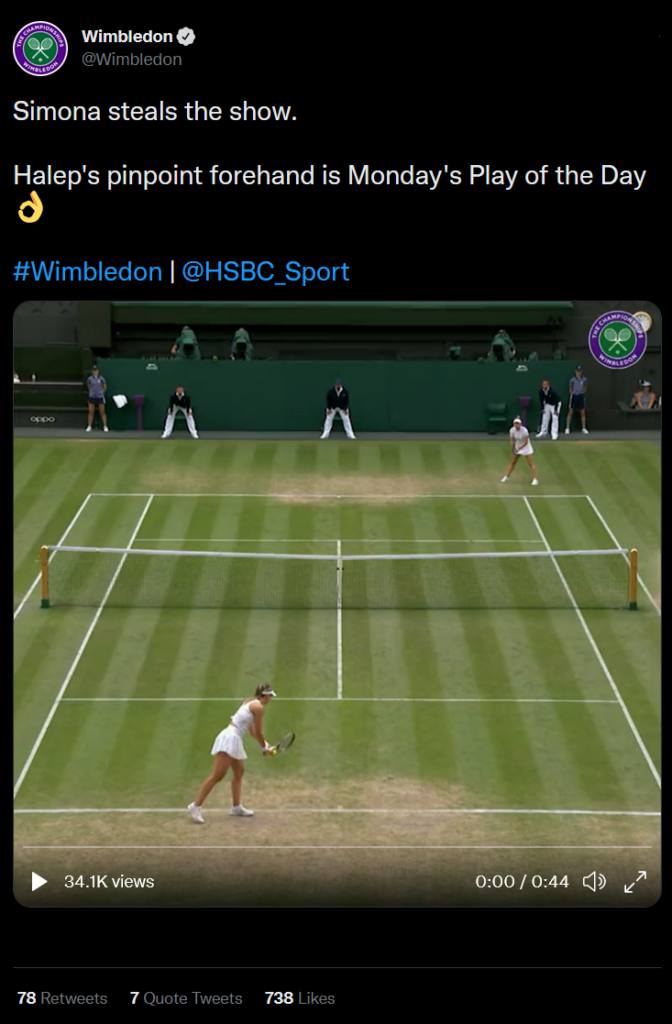 The first and most easy method is a simple retweet. Any Twitter user will know how that's done, so we're not going to insult anyone by doing a step-by-step guide for that!

The second method is a quote tweet. Here's an example, we've just put "Great rally, superb tennis" as the caption.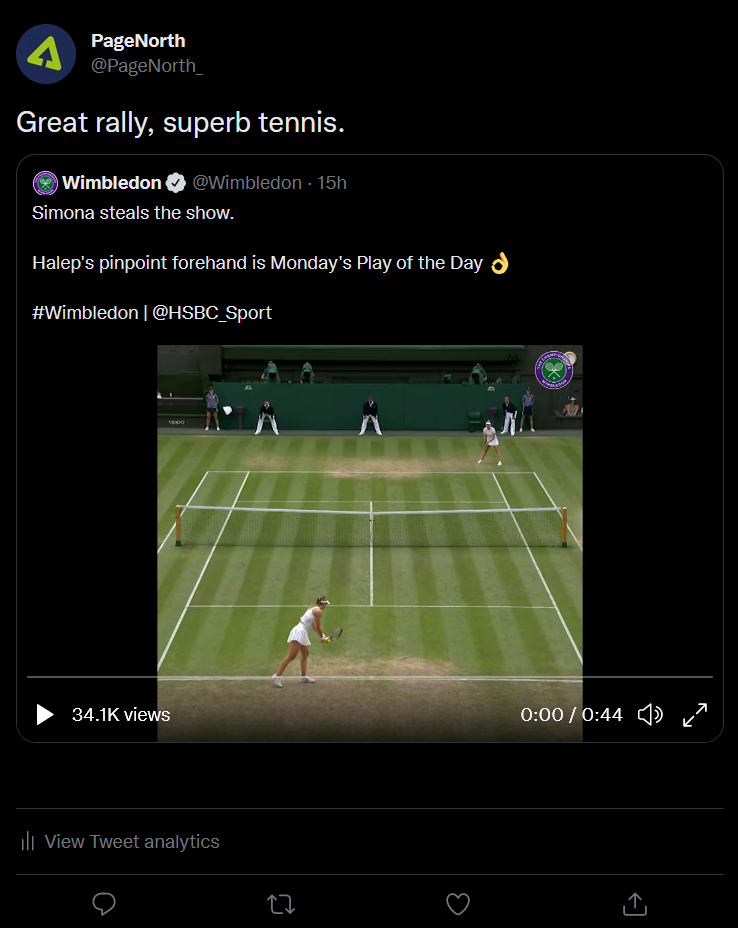 A quote tweet is easy to do, but depending on the tweet being quoted, it can often end up looking messy, cluttered and disorganised.

This brings us to the third method. It's certainly not as easy as the previous two, but it makes for a much cleaner and readable tweet.
Go to the tweet with the footage that you'd like to use and click on the share button, three options will appear - 'Send via Direct Message', 'Bookmark' and 'Copy link to Tweet' (see below).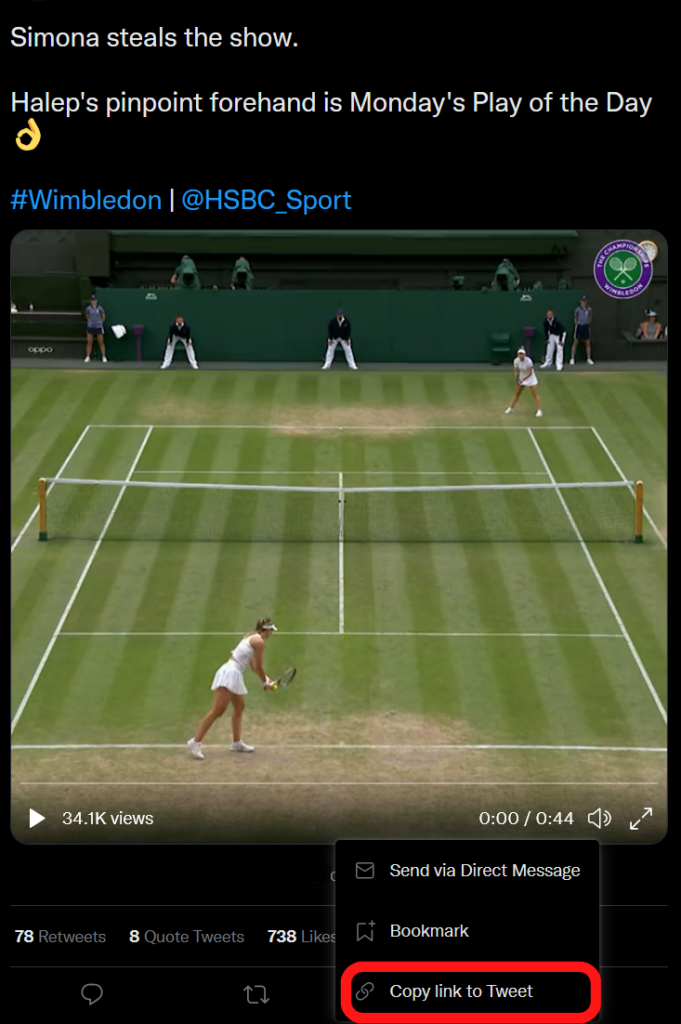 Select 'Copy link to Tweet'.
Go to your own profile and click on the 'Tweet' button. Now use Ctrl and V on your keyboard to paste the link into the box, it should look something like this: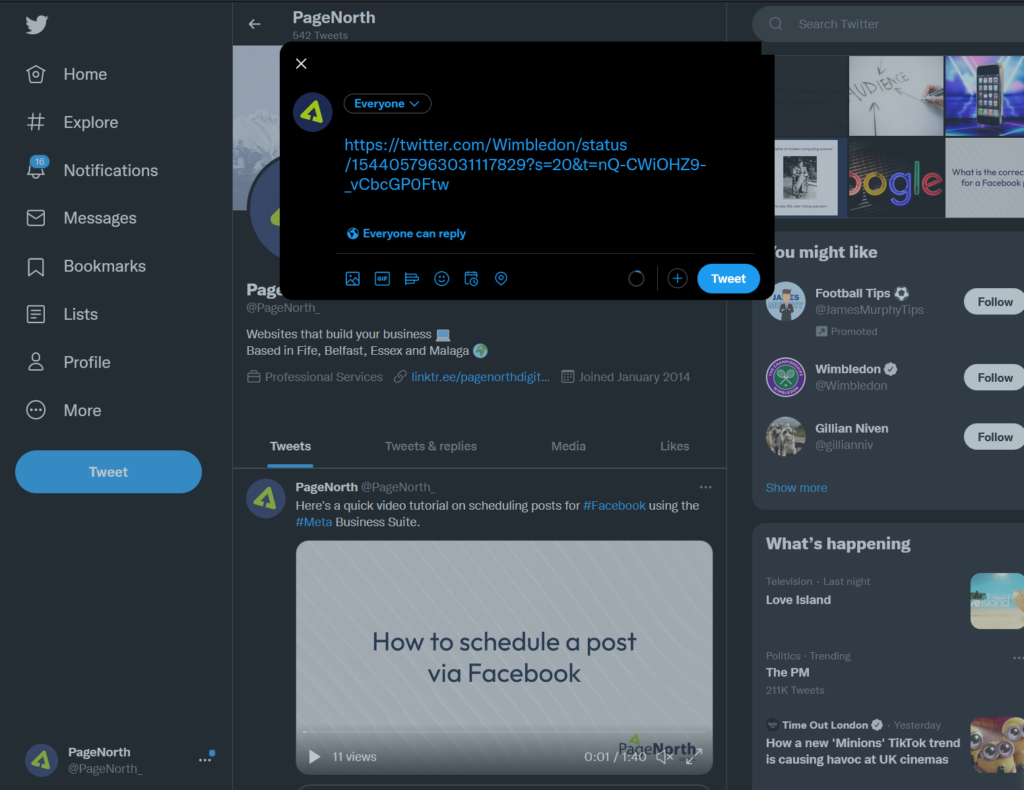 Write your own caption before the link, we've again just used "Great rally, superb tennis."
Go to the end of the link and delete everything back to and including the question mark: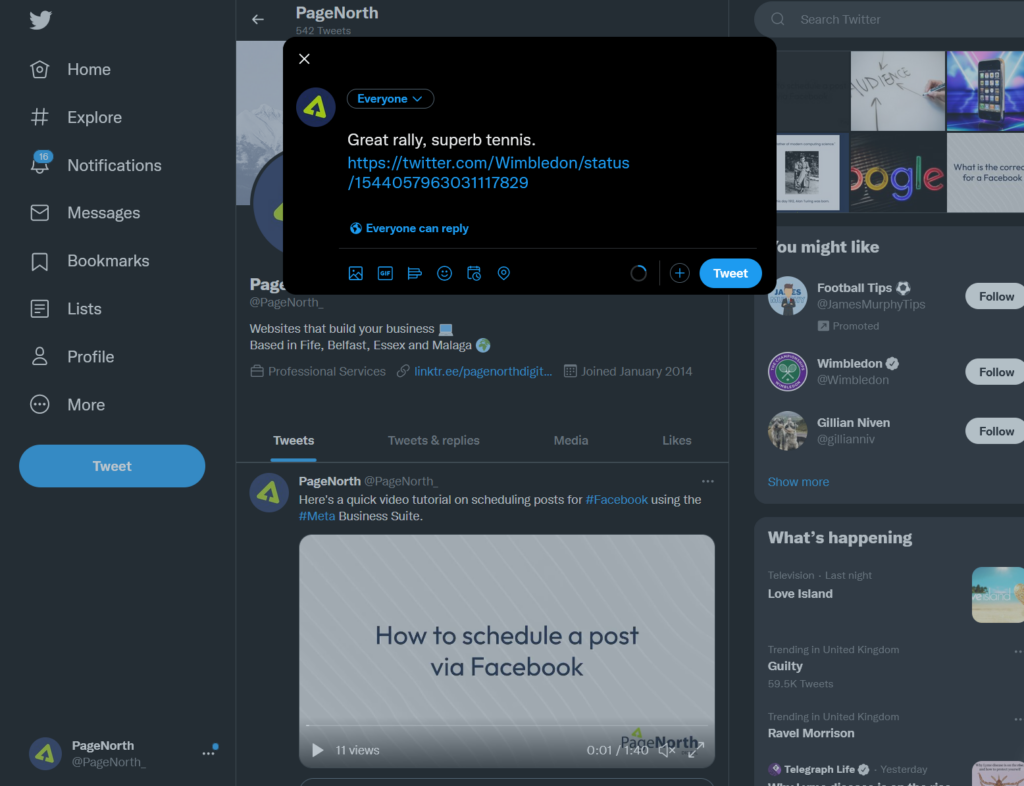 Now add /video/1 to the end of the link: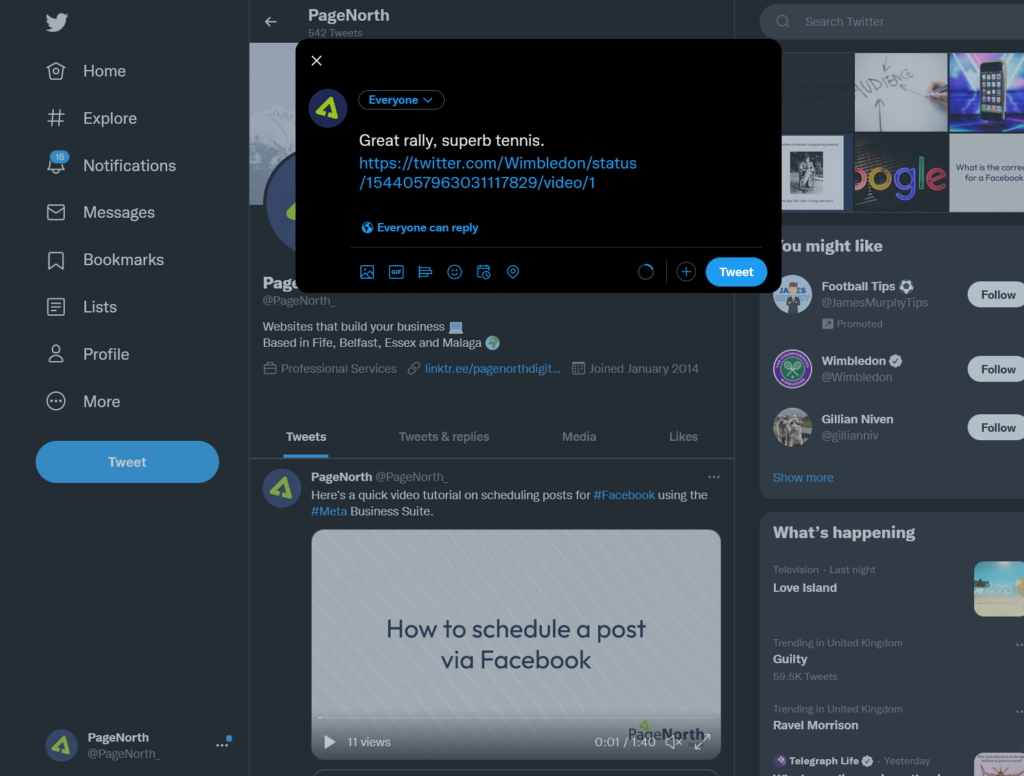 Lastly, click on 'Tweet' and this is how it will look: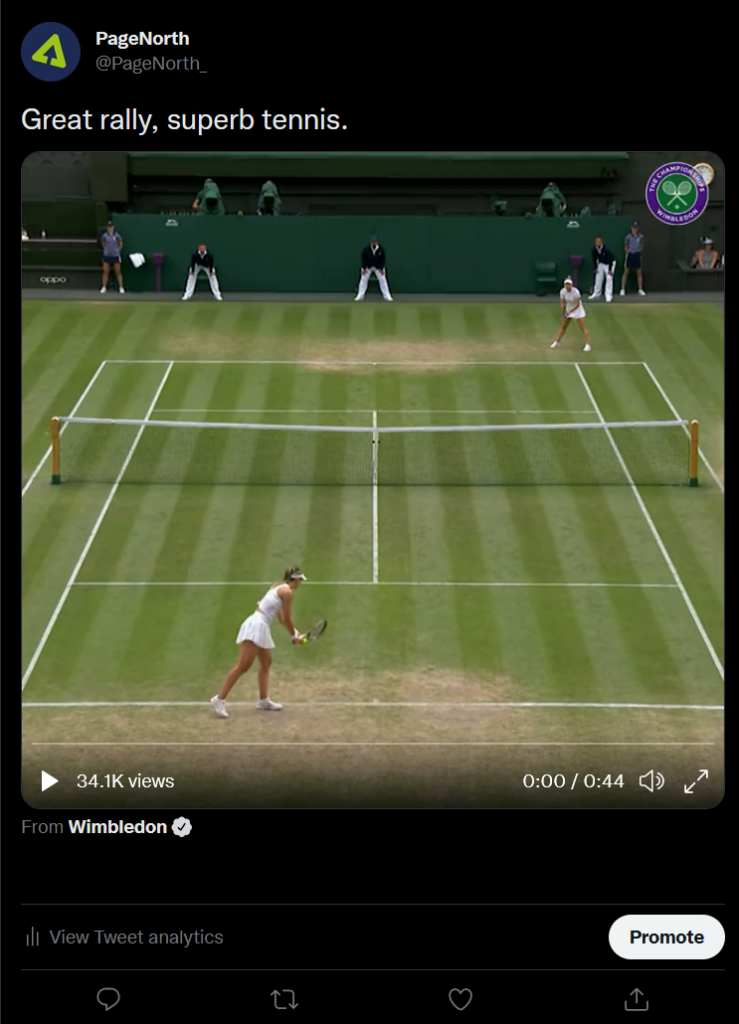 Isn't that SO much cleaner, neater and straightforward?
The focus is now on your caption and how it corresponds to the footage, there's no clutter to distract or dilute.

Here's the tweet that we used, go ahead and try it for yourself:

https://twitter.com/Wimbledon/status/1544057963031117829?s=20&t=2dIrRSQX4XBMaY-pVgfbTw

Do you need a hand with social media for your business? We want to help, contact our team for more information.
In 2022, it's so important to maintain a regular and visible presence on social media.

However, if you're doing something right and your social media is generating lots of business, then it might be the case that you've got orders to ship, appointments to attend or all sorts of other things that take up your valuable time.

Such a difference maker
This is where social media scheduling is such a difference maker. It frees you up so that you can focus on other areas, yet it maintains your online visibility.
There are plenty of third party social media scheduling tools: SproutSocial, Buffer, Hootsuite, SocialPilot…

But did you know that you can schedule content via Facebook directly? Here's how to do so for a simple photo and caption post via Meta Business Suite desktop:

- Go to the Facebook page for your business and click on 'Create Post'
- Select 'In Meta Business Suite'
- Click on 'Create Post'
- Enter your caption in the 'Text' box
- Click 'Add Photo' for your image
- Then, on the bottom right, click on the blue downward pointing arrow and select 'Schedule Post'
- Select the date and time that you'd like your post to be published, then click Save
- Lastly, click on the blue 'Schedule Post' button on the bottom right

And that's it, your post will be published on the date you've chosen at the time selected.

Current affairs

Scheduling means that you could think up an entire week's worth of Facebook content, set it up to publish on specific days at specific times and be free to get on with whatever else demands your attention.

Just remember to keep up with current affairs. Sometimes, unpredictable events can happen and content that you might have scheduled months ago could suddenly be irrelevant or insensitive.
Be sure to regularly check on what you've got scheduled and delete anything that becomes inappropriate to avoid a potential backlash.

Do you need a hand with social media for your business? We want to help, contact our team for more information.
Google is offering a grant to UK charities of up to £8,000 for Google Ads.
If you're a charity organisation, then this grant is something you should definitely be taking advantage of.
What are Google Ads?
Quite simply, Google Ads is what it says on the tin: advertising on Google.
Using Google, you can run PPC (Pay Per Click) ad campaigns which direct users to your website.
Pay Per Click means that you only pay for the click-throughs (the number of times a person has clicked on the ad).
The price of the click is determined by keywords and bidding.
You will bid on keywords/phrases and the more competitive (popular) it is, the higher the price.
For example, the word 'soap' will have a much higher PPC price than the phrase 'homemade soap Fife' because the latter is more specific.
Your keywords should be specific enough that the price is lower and your ad is being shown to the right audience while still having enough searches to improve visibility.
With the use of great keywords and a quality website, Google Ads can heavily increase visibility and conversions.
Eligibility
There aren't many restrictions of eligibility for this grant.
You must have current and valid charity status meaning that you are registered with OSCR, the Charity Commission, CCNI and/or registered as a charity with HM Revenue & Customs.
You must understand and agree to Google's terms and conditions on non-discrimination and donation receipt and use.
You must have a live website with substantial content, relevant and explanatory in terms of who your organisation is and what it does (something that we at PageNorth can help you with)
Your website must also have the proper level of security certification needed.
Non-eligible organisations
There are some entities and organisations that are not eligible.
They include:
Government entities
Schools
Universities
Academic institutions
Hospitals and medical groups
Although academic institutions aren't eligible, philanthropic arms of educational institutes are.
Conditions
There are some more conditions even if you are eligible.
Most of these are only relevant once you are set up with Google and are ready to start building and running your campaign. You must follow these conditions to stay qualified for a non-profit account.
All ads must link to the non-profit website address that has been approved in your application
Ads must reflect the mission of the chairty, you cannot use the grant for any other means
Ads cannot link to a webpage that is mainly used to redirect users to other websites
Ads cannot offer financial products e.g. credit cards or mortgages
Your ads can sell products but only if 100 percent of the proceeds go towards supporting your program
Your ads cannot ask for donations in the form of large goods, keywords related to this are also prohibited
Ads are limited to the search market, they cannot be run in the display market
You must log in to your ad account a minimum of once a month
You must maintain a 5 percent CTR (click-through rate) on your ad - if you don't achieve this for two months in a row, your account will be cancelled (A CTR is the percentage of those who click on your ad after it has been shown to them)
Non-profit organisations cannot buy a branded keyword that they do not own
Your keywords must have a quality score above 3
Majority of single word keywords are not allowed as a charity organisation should have more specific and targeted keywords
Your account must have geotargeting
Your account must have at least two sitelink extensions active
Your campaign must have a minimum of two ad groups with a minimum of two ads running in each
There are further conditions that Google explain during the application process, but these are some of the most prevalent ones.
How to set up
To set up for Google Ad Grants, there are a few things you will need.
You'll need a validation token: this can be acquired from Charity Digital.
If you are not registered with them already, then getting set up is an easy process.
You will also need a Google account, it is recommended to not use a personal account but rather an account for your organisation. This can then also be used for Google Analytics, a YouTube channel and any other Google applications.
After you have ensured that you have got these two things set up, you will start the application process.
Google's application form will be looking for information about your charity and to check the validity of your application.
It will be looking for information on you and your campaign, meaning you have to adhere to their guidelines while applying.
If you haven't used Google Ads before, the application can feel a bit overwhelming - but that's something we can help with.
PageNorth's marketing team can go through the application process for this grant for you and run your ad campaigns.

If we have all of the information needed, we can have you set up within days and our team is ready to help whenever you need.

If you're a charity, get in touch with us today and we'll take it from there.
As well as logo design, web design, graphic design and managed eCommerce, PageNorth Digital is also a marketing agency.

Whilst this series of feature articles has previously focussed on the design and evolution of the Levi's logo, this third and final instalment also looks at the rise of Levi Strauss & Co. as a global advertiser and as an 'integrated marketing' force with the use of music playing a central role in their ground-breaking, trendsetting TV and cinema spots.

A global cultural phenomenon

Corduroys heralded the beginning of the 1970s. Also reflecting the styles of the day, bootcut and polyester pants along with denim shirts, coats and casual wear were added to the range.

By this time, Levi's transcended the status of a mere product and had become a global cultural phenomenon. Expansion was needed to keep pace, but the company struggled to raise enough private capital to fund growth.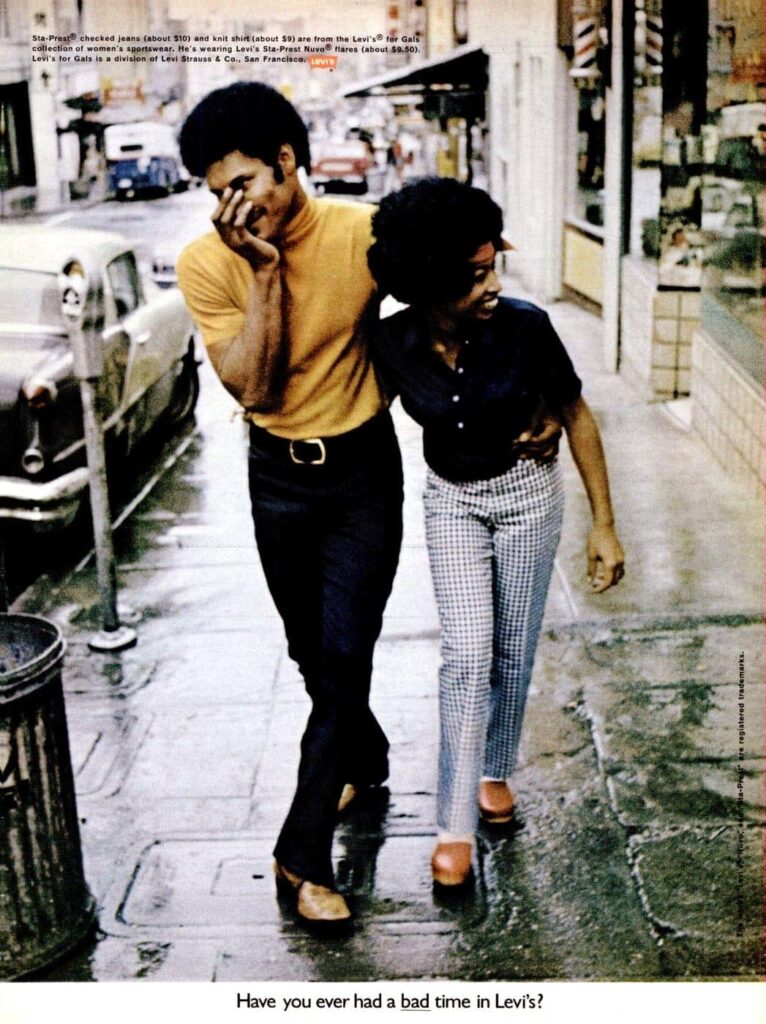 In 1971, Levi Strauss & Co. ended its long-standing status as a family and employee-owned enterprise and became a public corporation.

The company was now operating in 50 countries, including the formation of Levi Strauss Japan.

In 1971, the lettering on the red tab went from all capitals to just a capital 'L' with the rest lowercase in keeping with the Batwing logo which had been in use for 4 years.

The following year, a Levi's factory opened in Dundee employing over 600 people at its hight in the mid-90s. Levi's expanded operations throughout Scotland with new jobs in Whitburn and Bellshill too.
The site in Whitburn - which employed over 600 workers at its peak - was the biggest LS&Co. plant outside North America at the time. There was also a distribution centre in Northampton in the East Midlands region of England.
Under-management

Demand continued to grow to the extent that the company had to cope with a constant shortage of denim. The heavily centralised Levi Strauss & Co. structure became unfeasible and operations were broken into four divisions: Jeans, Levi's for Women, Men's Sportswear and Boys Wear.

In 1973, the phenomenal growth caught up with years of under-management. The European division found itself with huge supplies of outdated straight-legged jeans - as opposed to en vogue flared or bell-bottomed.

The company tried to unload the overstock at a cost of $12 million. As a result, Levi Strauss & Co. announced a losing quarter for the first time since the Depression and the stock price of the company fell dramatically.

Levi Strauss & Co. moved its headquarters from the site it had occupied on Battery Street for 108 years to a large office complex at Embarcadero Center in San Francisco. European operations were also reorganised.
$1 billion
By 1974, product sales had reached $1 billion despite the exposed fallibility of the company.
The perils of being a global business continued when it was revealed that employees in international locations had bribed foreign officials on four separate occasions. Upon discovery, the practice was immediately terminated by the San Francisco head office.
Whilst global operation problems continued, domestic troubles arose in 1976 when Levi's were accused of price-fixing and restraint of trade. The Federal Trade Commission claimed that Levi Strauss & Co. prohibited retailers from discounting its products.

The company agreed to settle the case for $12 million but did not admit wrongdoing. Levi Strauss & Co. gave up suggested pricing but retained freedom not to sell to certain retailers.
Around a million Californians filed claims for refunds. The company settled several suits brought in nine states that charged illegal price-setting practices.
By this time, Levi Strauss & Co. had 22,000 employees, 50 plants in 35 different countries and was worth around $5.2 billion.
It was also 1976 that signalled the start of the start of the story-based TV commercials that Levi's would become celebrated for.

Route 66
Shot in California and London by Hollywood director Adrian Lyne (Flashdance, Fatal Attraction), the 3-minute Route 66 ad tells the story of two young women whose car breaks down on Route 66.
They're rescued by a truck driver and a classic American road trip - complete with diner food and police evasion - unfolds. They make it just in time to meet their favourite band backstage after a concert.
The band is Clover - chosen because Levi's were sponsoring their 1977 European tour - covering Bobby Troup's 'Get Your Kicks on Route 66'. Members of Clover would go on to greater success with Huey Lewis and the News, Toto, The Doobie Brothers and Lucinda Williams.
The British/European 60-second cinema version of the ad (a 30-second version was also used for TV) generated record sales.
The commercial – which cost around £650,000 - got a Gold Lion at Cannes for cinematography and almost won the Palme d'Or.

Levi Strauss & Co. was now the largest clothing company in the world. It also licensed its name to be used on other products such as shoes and socks.

Alongside its denim lines, the company had grown through acquisitions such as Great Western Garment Co. - the Canadian clothing manufacturer responsible for the introduction of the modern 'stone washing' technique, still in use today (acquired 75 percent in 1961 expanding to 100 percent in 1972).

Sales doubled
By 1979, sales had doubled in just four years to hit $2 billion. Further growth occurred with the acquisition of Koracorp Industries - a sportswear manufacturer.

As another transformative decade drew to a close, tastes had changed. Denims had gone from leisure wear to high fashion at the hands of new competitors such as Calvin Klein. Jeans were now acceptable dress for all occasions.

In 1979, construction of a 763,000-square-foot seven story facility along The Embarcadero in San Francisco began. Completed in 1981, the company moved to 'Levi's Plaza'.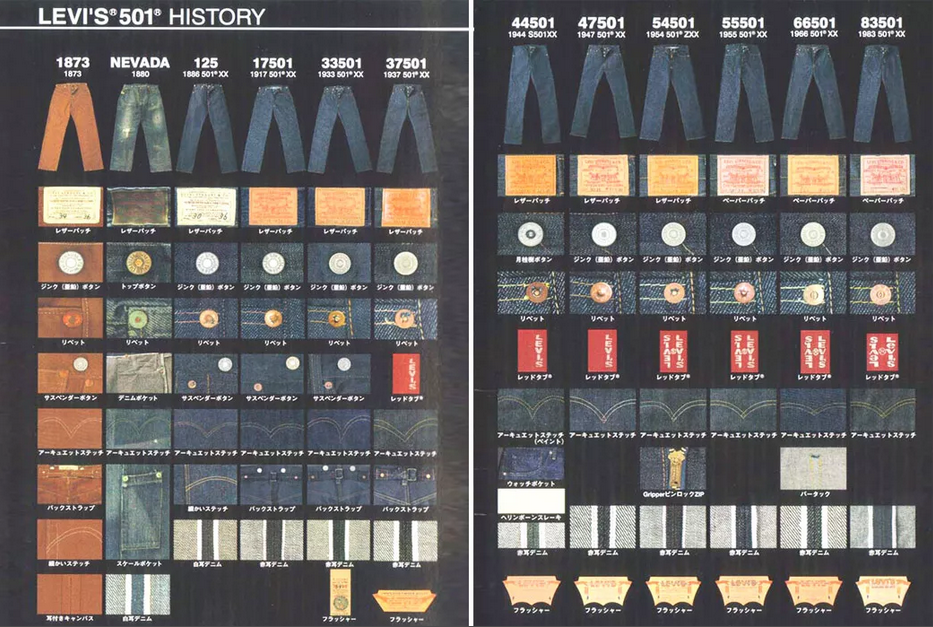 In 1980, Levi Strauss & Co. became the official outfitter for Team U.S.A. at the Lake Placid Winter Olympics.

There had been plans to clothe the American team at the 1980 summer Olympics in Moscow, but the United States' boycott (in protest against the Soviet invasion of Afghanistan) kept the athletes at home.

Further company growth occurred with the acquisition of Santone Industries - a menswear manufacturer.
Profits plummet

Despite selling nearly 589 million jeans in 1981, earnings dropped by nearly 25 percent. As profits continued to plummet in 1982, the company shut down nine plants with a loss of 2,000 jobs.

1983 saw a brief recovery and the company planned a $40 million tie-in with the 1984 Olympics to promote the new active-wear division.

After 130 years of being exclusively a wholesale business, Levi Strauss & Co. opened its first retail store in Vitoria, Spain.

Along with its own shops, LS&Co. continued its wholesale business by introducing products for sale at national chains, department stores and specialty shops.
However, the alarming plunge in net income hit 78 percent with sales 8 percent down from the year before due to new competition and missed trends.
Levi's were becoming something worn by people's dads.

Levi's market share was being eroded by designer labels and budget-priced own labels. Arresting the situation was problematic as cuts in price would run the risk of being seen as cheap.
Wider distribution also had dangers, Levi's were already battling to keep their products from being sold in truck stops in the U.S. and Tesco supermarkets in Britain.

There was no brand leadership in the market. MTV was now the cultural touchstone and Duran Duran, Culture Club and Spandau Ballet dominated the airwaves.
Levi's didn't fit in anymore.
In 1985, the 501 Laundrette TV commercial sent sales skyrocketing by 800 percent according to some estimates. Targeting the 16-24 year old male, it launched the career of heartthrob model Nick Kamen.
The fresh new campaign, dubbed The Original Jean, was set to a newly recorded 'session' version of the Marvin Gaye 1968 classic 'I Heard It Through the Grapevine'.
The original was re-released off the back of the TV commercial and re-entered the music charts as a prime example of 'integrated marketing' - a song in the charts and an advert on TV simultaneously.

It signalled an era of sexiness in Levi's ads and repositioned the brand in the high-fashion market. It also pointed the way to a radically different version of masculinity.
501s had to be set apart from the increasingly fierce competition and show that the design features had a tradition behind them, while the style could change subtly.
The idea had been to posture Levi's as the original jeans - but still contemporary.
In the Autumn of 1986, the advert had to be discontinued because the company couldn't produce enough jeans to meet the new demand.

By 1987, sales of Levi's were said to be 20 times higher than what they had been just 3 years prior.

A mythical America far from contemporary reality

Levi's ads would now feature typical common elements: A mythical, timeless, post-war America, a story involving sexual voyeurism, the actual product wouldn't be shown until the final shot and the ads would end with a humorous claim focusing on an apparently trivial feature of the product.

Advert producer Philippa Crane said, "We developed a Mythical America far from contemporary reality and captured the enduring values of youth: sex, rebellion, freedom and individuality whilst luxuriating in product detail."
The Laundrette commercial became a 1980s cultural touchstone and spawned a host of parodies. In 2018 it was named as one of the best ads in 50 years - "It defined a generation," wrote Campaign magazine's Rick Brim.

Cinemas and style magazines
In 1985, the company was taken private in a leveraged buyout for $1.45 billion by the Haas family.

As well as TV commercials, Levi's were now being advertised in cinemas and in style magazines such as Tatler and The Face to signify connoisseurial taste.
The magazine ads often referenced an elite culture whose meanings were only recognisable to those 'in the know'.
As with Laundrette, LS&Co. couldn't get permission to use an original recording for the soundtrack to Bathtub, so a cover of 'Wonderful World' performed by Tony Jackson (a backing singer for Paul Young) was used.
The reissued Sam Cooke original was a chart hit.
Dockers

In 1986, Levi's launched 'Dockers', a new upscale brand of casual clothing. Taking its cue from British longshoremen, as well as the khaki pants worn by miners in the 1920s, it was one of the most successful brand launches in the history of the American apparel industry.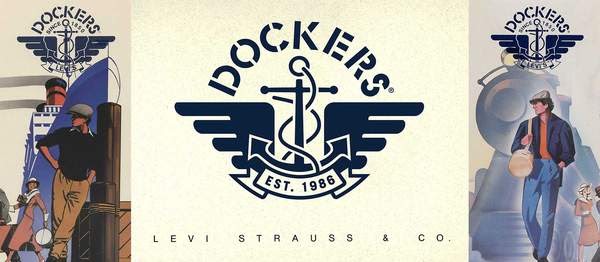 The Dockers line was sold largely through department stores and provided men with "smarter, more comfortable and more versatile clothes for every occasion."

The cotton Dockers pants appealed to older customers, whose expanding waistlines didn't fit into traditional jeans any more.

The brand wasn't released in Europe until 1994.

With Dockers flourishing, the company was in a position to take on multibillion-dollar debt to finance stock buyouts for family members.
Featuring the Percy Sledge classic 'When a Man Loves a Woman', Parting is a mini-drama.
A young woman sees-off her soldier boyfriend at a bus station. The protagonist tearfully arrives home and opens a package that her boyfriend had handed to her before leaving.

Inside are a pair of old 501s, she takes off her skirt and puts them on. In the back pocket, there's a love letter which she opens whilst sitting on her bed wearing her beloved's jeans.
---
1987, My Girl - WATCH
1988, Entrance - WATCH
1988, Cochran - WATCH
1988, Refrigerator - WATCH
1988, Jamie Walters - WATCH
1989, Pawnbroker - WATCH
---
Most Levi's ads served as a product demonstration. Pick-Up was a two-horse test carried out in a more modern way featuring a pair of 501s being used as a tow rope.
Innovative denim finishes, such as bleaching and stonewashing, saw sales reach $4 billion by 1990.

The new decade began with the closure of a plant in San Antonio, Texas. 1,150 seamstresses, some of whom had worked for Levi Strauss for decades, saw their jobs exported to Costa Rica.
1991 saw LS&Co. implicated in a scandal involving products represented as made in the U.S.A., but were actually manufactured in the Northern Mariana Islands in illegal sweatshops.
Some 3 percent of Levi's jeans sold annually with the Made in the USA label were shown to have been made by Chinese labourers under what the United States Department of Labor (sic) called "slavelike" conditions.
Subcontractor Tan Holdings Corporation was fined nearly $10 million by the U.S. government - the largest penalty in U.S. labour history.

Levi Strauss & Co. took steps to develop the first known set of comprehensive standards for manufacturing contractors worldwide, dealing with wages, hours, working conditions, ethics and the environment.

1991 saw LS&Co. open its first retail store in the United States in Columbus, Ohio.
Swimmer referenced the Burt Lancaster film The Swimmer (1968), the soundtrack was 'Mad About the Boy' by Dinah Washington. "The more you wash them, the better they get" was the tagline.
High-priced prestige
LS&Co. spent $230 million on advertising in 1992. Having previously been available at affordable prices in mid-range shops, Levi's began to appear in high-end stores with a considerably higher price tag.

The company also began to open its own stand-alone boutiques.

In 1992, foreign sales represented close to 40 percent of revenues and over 50 percent of profits.
The focus was now on international sales. Classic 501s were positioned as a high-priced, prestige product sold at boutiques in Europe and Japan (at double the U.S. price).
A flagship store in Manhattan, New York opened across the street from Bloomingdale's in 1993.
The following year, LS&Co. opened a flagship Original Levi's store in London.

By this time, sales of Dockers alone came to $1 billion and represented almost 30 percent of Levi's domestic sales.
In 1994, LS&Co. hired musician Peter Lawlor to create original soundtracks for forthcoming 501 commercials. The first composition to be used was 'Fictional Self' in the Oilrig advert.
Emulating the 90s Seattle sound, this was a departure from the classic blues, rock and soul previously favoured.
Creek

For the next commercial, Lawlor needed a vocalist for the rather anachronistic 'Inside'. After several auditions, he hired Ray Wilson - the eventual lead singer of Scottish rock band Stiltskin.

Despite the introductory choral singers, the version used in the advert was essentially an instrumental with Lawlor playing all of the instruments - Wilson sang on the track that was released.

20 days after Kurt Cobain's death, 'Inside' arrived in record shops at the peak of the grunge band era.

In May 1994, it topped the British top 40 - yet another number one following use in a Levi's ad.
Creek culminates with the realisation that the stolen jeans don't belong to man bathing in the water. It's a continuation of Levi's humour which can be traced back to the overweight man who surveys Nick Kamen in Laundrette.
On 24th August 1994, the levi.com domain name was registered and the first Levi's website was launched later that year.
Planet

Up until 1995, Levi's ads had featured a vintage America. The brand territory was originality - the original and definitive jean.

Levi's advertising typically had the aforementioned elements of a post-war America, sexual voyeurism and the full product not shown until the final shot with a humorous product claim.

In a move away from the vintage, post-war America styling, the new Planet commercial was to promote the recently launched 501s for women.
Planet is set in a small town reminiscent of 50s America, but on a remote planet.

A mother and father pace anxiously in their futuristic living room awaiting the arrival of their daughter who has not come home with the family spaceship on time.
Eventually showing up, the spaceship lowers down with an abrupt thud, much to the chagrin of the father. Played by Russian-born model Kristina Semenovskaia, the daughter nonchalantly emerges from the spacecraft in a pair of 501s.

To the astonishment of her father, she casually hands him the keys as she passively walks by. The endline reads: 'The only jeans in the universe cut from 01 denim. 501. The original jean.'
The song used in the ad was 'Spaceman' by Babylon Zoo. It entered the British top 40 at number one in January 1996.
It sold 383,000 copies in its first week of release, making it the fastest-selling debut single in British history and the fastest-selling British single since 'Can't Buy Me Love' by The Beatles.

It was the sixth song to reach number one in Britain after being featured in a Levi's advert and proof, if proof be needed, that having your song selected by Levi's meant a guaranteed a chart hit.
Featuring fashion designer Zaldy, a sleazy taxi driver drools over a pretty girl in back of his cab. The girl then puts an electric shaver to her face revealing that she's transgender.
The Advertising Standards Authority had refused to air Taxi outside of late night viewing, but media interest lead to them revise the decision and allow it to air after 8pm.
Originally released in 1993, 'Turn On, Tune In, Cop Out' was a Norman Cook (Fatboy Slim) production under the guise of Freak Power.

Following its use in Taxi, the song was re-released in March 1995 peaking at number three on the British top 40.
Clayman features a plasticine animated man saving a plasticine woman from a burning building using his 501s. It won the Public Choice: Favourite Commercial category at the 1996 British Animation Awards.
Shifting from advertising with a cinematographic feel, the soundtrack featured 'Boombastic' by Shaggy - another British number one - adding to the humorous spirit.

It was the first LS&Co. global commercial running in countries on all five continents.
With revenues at $7.6 billion, Levi Strauss & Co. was now virtually debt-free. The company announced a series of leveraged stock buyouts among family members to concentrate stock in fewer hands.

Levi Strauss & Co. Vs Tesco

A highly public skirmish between Levi's and Tesco broke out in March 1996 as the supermarket giant bought 45,000 pairs of 501s from a factory in Mexico.
501 stonewash jeans were suddenly available from 128 British Tesco stores for £30 - significantly undercutting the £55 price of the authorised outlets.
Levi's stated that a supermarket gave the wrong image to what was meant to be a must-have fashion item.
Levi's blocked them from receiving its supplies, but Tesco imported a further 32,000 pairs bought directly from retailers in the United States where 501s retailed for as little as £18.

In 2002, Tesco lost a landmark legal case for the right to sell designer goods. After a four-year battle, the High Court upheld a ruling from November 2001 that the supermarket was not allowed to sell cut price 501s without permission from Levi Strauss & Co.
Using the 1954 logo, Levi's Vintage Clothing (LVC) - a line of reproduction items from the Levi Strauss Archives - was introduced worldwide.

An unusual move occurred in June of 1996. LS&Co. offered to pay its workers a dividend of up to $750 million in six years' time, having halted an employee-stock plan during the internal family buyout.
However, the company failed to make cash-flow targets and no worker dividends were paid.
In 1997, sales hit a peak of $7.1 billion.
However, over the following 5 years, sales would fall every year due to competition from high-end brands such as Diesel, Calvin Klein and True Religion.
---
1997, Kung Fu - WATCH
1997, Washroom - WATCH
1997, Impala Man - WATCH
1997, Car Chase - WATCH
1997, Ice Cream Man - WATCH
1997, Bag Boy Fantasy - WATCH
1997, Test Drive Date - WATCH
1997, Car Wash - WATCH
---
In 1999, the company opened a Levi's store in San Francisco's Union Square. The location was historic, just across from Stockton Street where Levi Strauss lived from 1863 to 1864.

29 plant closures around the world saw the loss of 10,000 jobs. Half of the company's manufacturing facilities in the U.S. had been lost and four factories closed in Europe.

Flat Eric

Sales were down by 13 percent and the company had to lay-off 30 percent of its U.S. work force.

In an effort to head off competition from the likes of Tommy Hilfiger, Diesel, Evisu and value brands like Lee and Wrangler, the company switched its advertising strategy to a more clever, underground and different feel for the new Sta-Prest commercial.

Featuring a bizarre-looking yellow puppet, the surreal Flat Eric campaign became a global pop culture fad with its use of 'Flatbeat' - a repeated bass loop by French musician Quentin Dupieux under the pseudonym of Mr. Oizo.

'Flat Beat' reached number one in Austria, Finland, Germany, Italy and Britain. In 2003, Q Magazine ranked 'Flat Beat' at number 175 in their list of the '1001 Best Songs Ever'.
As the new millennium approached, Levi's 501s were named as Time Magazine's fashion item of the century beating the miniskirt and Coco Chanel's little black dress.
By 2001, revenues dropped to $4.25 billion.
Over a six-year period from 2001, LS&Co. was litigious in trademark infringement cases filing nearly 100 lawsuits against competitors. The company had always ferociously protected its IP as far back as the 1800s.

Most cases involved imitation of the back pocket arcuate which had been trademarked in 1978.
LS&Co. successfully sued Ralph Lauren, Guess, Esprit, Zegna, Zumiez and Lucky Brand amongst others.

Odyssey

Odyssey was beautifully shot, innovative and effective.
Alongside the strings of Handel's 'Sarabande', the cutting-edge special effects were a massive undertaking by world-renowned visual effects company Framestore.
The liberating footage features a man and woman sprinting through concrete walls head-on. The commercial peaks as they scale trees, accelerating upwards and launch themselves skywards without fear.
Sales of the Engineered range increased by 200 percent.
In 2002, the company closed its Valencia Street plant in San Francisco which had opened back in the April of 1906 in the aftermath of the earthquake and subsequent fire.

Scottish cutbacks meant 1,500 job losses in Whitburn and Bellshill. Levi's left Dundee completely in 2002 due to the "challenging economic climate". From the 1997 peak of $7.1 billion, profits had slumped to $4.1 billion.
In 2002, a close business collaboration with Walmart started with a special line of 'Signature' jeans and other clothes for exclusive sale.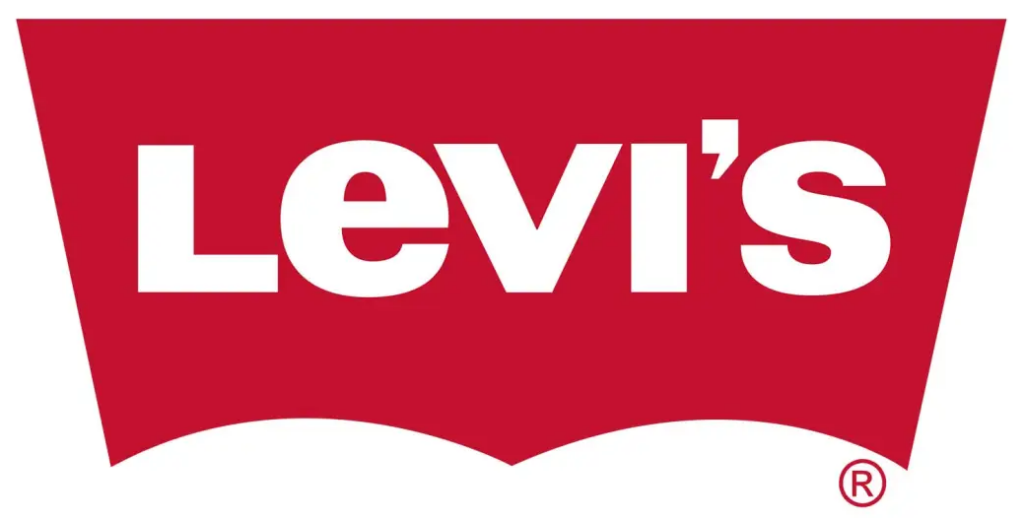 In 2003 as Levi Strauss & Co celebrated the 150th anniversary of its founding, the 'Batwing' underwent a subtle refresh 36 years after the 1967 original.

Featuring sans serif URW Linear Wide Ultra Bold, the square apostrophe is the most obvious change.
The intensified red hue of the 19-1761 TPX pantone provided the background for the reduced height of the typeface for a fuller appearence.
In 2022, the Batwing is used in many different ways. T-shirts featuring the classic red are a staple, but the logo is now commonly seen in other colours, even rainbow colours.
The transition of the 'Batwing' logo from 1967 - 2003.
Present day

The pop culture dominance of Levi's transformed Levi Strauss & Co. from a successful regional company into one of the world's largest clothing brands.
The firm is still owned almost entirely by indirect descendants and relatives of Levi Strauss, whose four nephews inherited the San Francisco dry goods firm after their uncle's death in 1902.
Levi Strauss & Co. is still based in San Francisco, but very little of their total output is made domestically.
For decades, the brand has been synonymous with quality, durability, style and fashion.
Today, the company is an omnichannel brand. One-third of Levi's business now comes from selling direct-to-consumer via levi.com and in 110 countries via approximately 50,000 retail locations.
Despite their humble working origins, Levi's are now positioned in the middle to high income market. A pair of 501s from the Edinburgh Princes Street store start from around £100.
In 2022, the brand remains a global symbol of reputable, authentic, stylish, premium quality.
Social media relies on visuals nowadays, with almost every algorithm boosting image and video content more than purely text.
That said, you want to caption your images and videos and you want to caption them effectively.
Today's topic is on Facebook and how to caption your content for great results.
The content
First thing to consider is the message that you want to get across. A caption needs to be impactful whilst remaining short and clear.
Think of the aim. If it's a CTA (call to action), include a link so that the person reading your post can easily do what you want them to.
If you have a sale that ends soon, tell them that - make sure that they know to place orders before the end date.
If you want to increase interactions with your account, ask a question or prompt a discussion.
If you want to showcase yourself and your knowledge, add some facts or statistics that are relevant.
Unprofessional and sloppy

Figures can be much punchier than a simple explanation, so don't be afraid to use them to really get your point across.
Simply think about what you want to gain from your social content and make it easy for the viewers to give it to you.
The main thing is to get straight to the point, no babble or lead up to the key message. Make the important information visible as soon as the viewer looks at the text.
You also have to take spelling, punctuation and grammar into account. Having any mistakes or typos in a caption looks unprofessional and sloppy.

Be natural
Language is more casual online, so using slang or abbreviations usually isn't frowned upon (depending on your target audience) but basic spelling and grammar must still be correct.
If your brand identity is more casual and fun, then type in that tone.
You want to present your brand with a human voice, so personality has to be taken into consideration.
Lastly, be natural!
Overly formal writing can look strange and inhuman, remind your audience that you are real people working for a real company.
Even if it's subconsciously, it makes them feel more connected to you and makes your brand more likeable.
The length
If you use social media for marketing, you'll know the struggle when it comes to truncation.
Truncation is when your caption is shortened by the '…see more' button (or similar depending on the platform).
This is a problem because it's hiding what could be valuable content.
Unless your caption is short enough, truncation is unavoidable.
This is why it's important to keep captions short but impactful, you need to get your message across in just a couple sentences so the viewer doesn't have to click anything to get all of the information.
Depending on the device, you have as few as 132 characters before your Facebook post will truncate, but it isn't an exact science.

The most engagement
An analysis from BuzzSomo says that the ideal Facebook caption length is around 50 characters, as it gets the most engagement.
If you have a lot of information to get across, this might be too short but it's a good aim to have for day-to-day posts.
The total limit for a Facebook post is 63,206 characters but unless you're writing essays for your audience, you should be fine.
If you want to check your post length before uploading, Sprout Social offers a social media character counter which allows you to check the characters of your post and advises you if it's too long or short. 

Do you need a hand with social media for your business? We want to help, contact our team for more information.